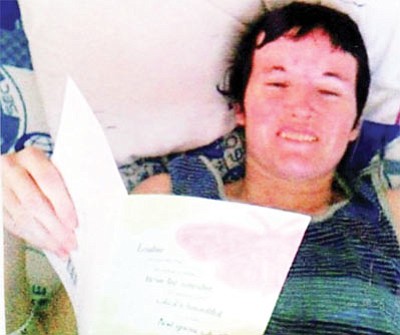 Originally Published: April 14, 2015 5:59 a.m.
KINGMAN - Time is growing short for Judy Adams' daughter, April Adams, who is losing her long fight with Huntington's disease.
After almost 20 years with the genetic condition, April, now 35, is bed-ridden, unable to speak or eat solid foods, and is losing weight daily. Hospice has advised Judy, who cares for April at home, to make funeral arrangements for her offspring, who could die at any time.
To help pay for a celebration of her life and cremation, Judy has placed canisters around town for donations of coins and dollars. She estimates it will cost about $4,000 to cover her daughter's final expenses, and she is asking for help from the community.
"This is very hard and I'm really struggling just to pay rent and other expenses," said Judy. "There's just no way I can make payments on funeral plans. It would be really nice to have some help, and I'm so grateful for every dollar."
Judy has been a widow for 10 years, since her husband, Issac Adams, died from Huntington's disease, an incurable neurological disorder similar to Parkinson's disease. Judy was able to continue working construction, which paid good money, for a while after he died.
But as her son, Eric Adams, now 39, and April got worse - they both have the defective gene that causes Huntington's - she had to quit her job to help take care of them. Judy's daughter started showing signs of the juvenile form of Hungtington's at the age of 16 and her son at 18.
According to the Mayo Clinic's website, the disease is caused by a malfunction of a gene that mutates a protein and causes it to kill brain cells instead of helping them. About one in every 10,000 Americans has the disease. Every child born to a parent with the disease has a 50/50 chance of inheriting the faulty gene and developing the disease. Symptoms usually show up between the ages of 30 and 34, and men and women are equally likely to get it.
The disease attacks the brain first. The initial symptoms - changes in mood, behavior and the ability to problem solve or think - are often dismissed. It's not until more severe symptoms appear - a lack of coordination, an unsteady walk and jerky body movements - that a person is diagnosed with the disease.
The symptoms progress to the point that patients can no longer walk, bathe or feed themselves. At the same time, they develop dementia. There is no cure for Hungtington's but there are drugs that help with some of the symptoms.