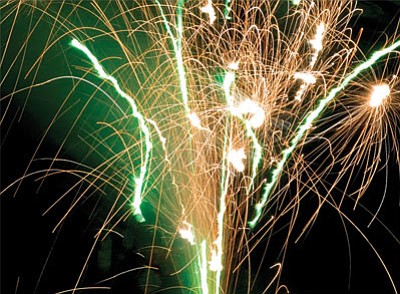 Originally Published: April 15, 2015 6:02 a.m.
KINGMAN - With less than three months before Independence Day, the question of whether Kingman will have a fireworks display remains unanswered.
The only certainty is that if there is a show, the Mohave County Fairgrounds won't play host.
The City Council on Monday held a budget work session for fiscal year 2015-2016, which begins July 1.
No decisions were made, but a $25,000 line item in the Tourism Development budget to fund the show sparked discussion.
While nobody rejected the notion that the city should resume funding a fireworks display after a three-year hiatus, the question of whether it should be paid for with room tax funds was a concern because the show doesn't put "heads in beds."
Mayor Richard Anderson said he has grown weary of the phrase.
"I'm tired of hearing, 'Heads in beds,'" he said. "Why don't we start saying, 'Food in mouths?'"
City Manager John Dougherty said the Mohave County Fairgrounds Board of Directors decided it would not host the event this year.
A fairgrounds employee confirmed the decision. Attempts to contact board Chairman Chuck Cox were unsuccessful.
In other items of interest regarding the budget, the Council:
• Informally agreed it would not provide a monthly rebate totaling about $48 a year in sewer rates for its more than 9,000 customers.
Anderson wanted to give customers a break, as a 25 percent increase in the cost of sewer service a few years ago has brought in more money than anticipated. However, city staff and a majority of Council members wanted to keep rates as they are.
The reasoning is the extra funding would pay for any unforeseen costly repairs. If the rebates were provided, they would amount to between $3 and $4 per month, an amount Vice Mayor Mark Wimpee said wouldn't mean much to ratepayers, especially if the Council had to come back at a later date and take it away.
Anderson, however, rhetorically asked if the Council was there for revenues or to serve the people of Kingman.
• Informally agreed to place $100,000 in the tentative budget to possibly help pay for a new animal shelter that could be built in Golden Valley.
Talks to replace the outdated and undersized current facility have begun, but a decision is far from being made, said Dougherty.
Currently, the city looks to partner with Mohave County and Bullhead City to fund the facility.
• Informally agreed to place $60,000 in the tentative budget that would be used to fund a veterans treatment court in Kingman, perhaps as early as 2016.