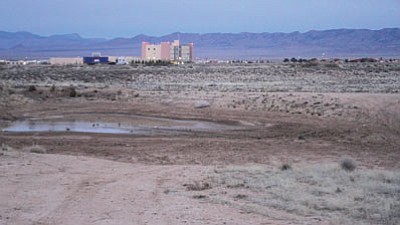 Originally Published: April 16, 2015 6 a.m.
KINGMAN - Opponents of a proposed general plan amendment that could lead to the development of Kingman Crossing have two main concerns. They believe the will of voters who approved the 10-year plan in November's general election would be circumvented - and they don't want to pay for the project, which involves the multiple-million-dollar construction of a fourth traffic interchange on Interstate 40.
Mostly, though, they don't believe the City Council and City Manager John Dougherty have been as transparent with their intentions as they could be.
The city's Planning and Zoning Commission held a public hearing Tuesday that was attended by about 45 people.
No action was taken as the hearing was held for one reason: To hear from residents.
Here are the main issues:
• Kingman Crossing involves the construction of a fourth Interstate 40 traffic interchange in a mostly undeveloped area of Kingman east of Andy Devine Avenue, bounded by I-40 to the north, currently undeveloped sections of Prospector Street to the east, undeveloped Airfield Avenue and state trust land to the south, and undeveloped Sage Street and a UniSource substation to the west.
• In order to make Kingman Crossing a reality, the city would have to sell 151 of 168 acres of city property that is currently zoned for parks and open space.
If the project is ultimately approved, the zoning could be changed at a later date to regional commercial, which would allow the area to be developed for retail purposes.
The remaining 17 acres, all to the north, would be used for flood control and would remain open space.
While opponents believe the Council is attempting to go against the desires of voters, state law mandates voters must approve any sale of public property valued at more than $500,000. The city could get around that requirement by selling the land piecemeal in chunks valued at less than $500,000, but Dougherty and Mayor Richard Anderson have said they would not go that route.
• About 151 of 168 acres of publicly owned city land would be sold to an as yet unknown developer, who would theoretically bring in more retail outlets and restaurants. This in turn would increase the city's sales tax revenue; the only stream the city has to provide services since there is no primary property tax.
• Proponents believe Kingman Crossing would also improve access for law enforcement and emergency responders in this rapidly growing section of the city and take a heavy traffic load off of Eastern Avenue, which carries the lion's share of vehicles.
Harley Pettit of Residents Against Irresponsible Development said it would be a mistake to take the decision away from voters, who approved the General Plan 2030, which includes Kingman Crossing but does not mention the zoning change of the 168 acres.
Pettit also questioned why the City Council considers Kingman Crossing an urgent matter.
While the Council is far from unanimous in its support of Kingman Crossing - councilwomen Carole Young and Jen Miles have raised critical questions about the plan - most seem to be on board.
Development Services Director Gary Jeppson said the issue isn't urgent, but the Council was pushed to move on Kingman Crossing due to state laws governing major amendments to the general plans every city in the state must provide once every 10 years.
Cities, for example, must hold two public hearings in two different locations and they can only take action on such amendments one month out of the year.
The Council several years ago chose May as the month such amendments would be attempted.
Pettit also noted voters overwhelmingly rejected the plan in a referendum in the 2007 election and he said the Arizona Department of Transportation does not list Kingman Crossing on its 5-year plan.
George Cook, also a member of RAID, said he and his wife purchased their home 15 years ago because they were told the 160 acres abutting their property would remain open space.
Cook also said it would be less expensive for the city to construct a police substation and fire station on the east side of the city and hire more officers and firefighters than it would be to build Kingman Crossing.
Cook also said additional growth in Kingman could have a negative impact on the city's finite water resources.
"There are simply too many unanswered questions," said Lisa Bruno. "We need a deeper analysis."
Bruno also accused the city of "consciously" failing to mention the amendment in the general plan and that they were engaging in "intentional obfuscation."
She also questioned whether the city's residents could support thousands of square feet of new retail space.
She urged the Planning and Zoning Commission to play hardball with the Council.
"If the city wants to play developer, treat them like one," she said.
Proponents of the plan had a decidedly different take on Kingman Crossing.
Brian Zach, a lifetime Kingman resident and Kingman Police detective, said he's seen many "missed opportunities" for the city to lure development and those failures have resulted in stagnant revenue.
"We're always preaching to shop locally," he said. "We only have sales tax."
Brian Zimmerman said he has struggled to understand what the issues are, but it seems to him that given the topography of the area it is better suited for commercial development than residential.
Realtor Bob Bass also wants to see Kingman Crossing developed, saying the city needs additional sales tax revenue and better shopping opportunities.
He said the revenue the city earns from the sale of the acreage could be put in the general fund and residents wouldn't have to worry about another bump in sales taxes.
He also noted Kingman Regional Medical Center, which has a satellite hospital in the area, has requested the city approve additional development in the area.
Currently, property owners on the other side of the interstate have been restricted from further development.
Finally, Bass said Kingman Crossing would create additional jobs for city residents.
Travis Lingenfelter is another proponent. He said questions need to be answered, but he also noted the hospital is struggling in its attempts to bring health care providers to the city because of the lack of amenities, the college can't attract professors and manufacturers can't lure managers.
Planning and Zoning commissioners did not respond to any comments and did not address the issues following the hearing.
The next public hearing will be held at 6 p.m. April 28 at the Mohave County Board of Supervisors auditorium, 700 W. Beale Street.