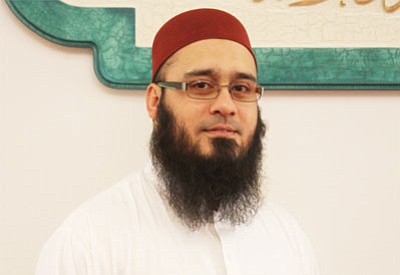 Originally Published: April 16, 2015 6 a.m.
A simple religion that has been complicated - that's how Imam Umar Farooq Mahmood described the Islam faith to the dozen or so people at a meeting at Mohave County's Democratic headquarters Monday.
Mahmood had been invited to talk about different facets of Islam, and briefly touched on how media coverage and public opinion have shaped the perception of his religion into something he doesn't recognize.
"The main problem is, in the media, they're taking it and pointing it to a religion. Our scholars, they do not even call those people Muslims," said Mahmood.
"If we look at what's going on in the media, those who are calling themselves Muslims, they are going against the teachings of the Quran. Unfortunately, these people are being highlighted in the media instead of the true Muslims. With gatherings like these, it's an excellent and very necessary opportunity for people to learn the truth."
Kingman's Masjid Ibrahim Mosque is home to around 25 Sunni Muslim families, with some families calling Kingman home for decades. It was established by a handful of families in 1990 and has stayed active ever since.
Mahmood, originally from Pakistan, moved to the United States when he was a child. He first lived in Miami and frequently returned to Pakistan. He obtained master's degrees in Islamic Studies and Arabic from Jamiat-ul-uloom il Islamia in Karachi, Pakistan, and is now an "Imam," which translates to "religious scholar" and "front of the congregation."
He has lived in Kingman with his family since 2009.
Lost in translation
Mahmood started his presentation by discussing the Arabic language and its role in Islam. Not only is the Quran (Islam's holy book) written in Arabic, but the nuances of Arabic are so important that a simple change in pronunciation can change the meanings of words.
For instance, in the case of "Islam" and "Muslim," the common pronunciations used by English speakers are not correct.
"The word Islam, and I want to correct this, Islam is pronounced with an 's,' not a 'z,'" he said. "Arabic is a very specific language. Islam (pronounced Iz-lam) is for someone doing wrong. Muslim (pronounced moos-lim) is someone who submits to the will of God. Muslim (pronounced muz-lim) is someone who is committing something wrong," said Mahmood.
Mahmood also brought up "salam," from which the word "Islam" is derived. The word carries five meanings: surrender to God, submission to the will of God, obedience to God and elders, sincerity, and peace.
"A person cannot be a Muslim without being sincere. A Muslim also must carry peace in the heart, meaning a Muslim will not attack, will not curse, and will not say bad things to each other from the hands and the tongue," said Mahmood.
Fundamentals
What the audience found interesting, and what challenged many of the misconceptions around Islam, was what comprised the pillars of the Islam faith and its similarities to other faiths.
Islam's core beliefs focus on God (referred to as "Allah" in Arabic) and the prophets, many of which are prominent writers from the Bible and include Mohammed, David, Abraham, Moses and Jesus.
The prophet Mohammed is regarded in Islam as the last prophet sent by God to mankind and was active nearly 500 years after the time of Jesus. The Quran was verbally dictated to him by the angel Gabriel. The scriptures that preceded the Quran, and that are recognized by Muslims as scripture, include the Torah and Psalms as well as a gospel written by Jesus.
"These people were human beings chosen by God to spread the message of God," said Mahmood. "We believe in Jesus. If he doesn't believe in Jesus, he's not a Muslim. We believe in that. With the permission of God, he cured the sick. With the permission of God, he was born without a father.
"The closest religion to Islam is Christianity."
More like this story