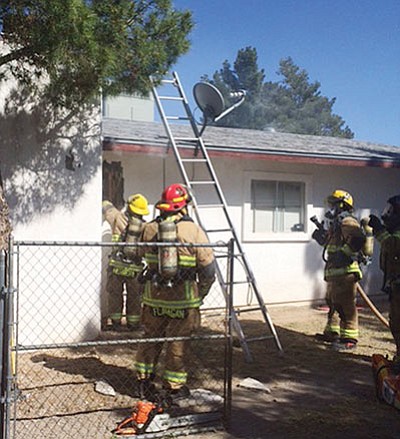 Originally Published: April 17, 2015 6 a.m.
KINGMAN - City of Kingman firefighters saved a home shortly after 3 p.m. Wednesday afternoon when they responded to a smoke report at a residence in the 2500 block of Phoenix Avenue.
Battalion Chief Bill Johnston said the fire was hidden in a wall adjacent to the fireplace. Crews gained access by breaking through the interior and exterior walls and extinguished the blaze before it reached the attic and spread.
Damage was limited to the area around the fireplace and the financial damage is about $5,000, according to Johnston. The home and its contents, valued at roughly $80,000, were saved, he said.
No injuries were reported and while the investigation is ongoing, the cause of the fire appears to be accidental, said Johnston. A total of 13 firefighters spent about four hours at the scene.