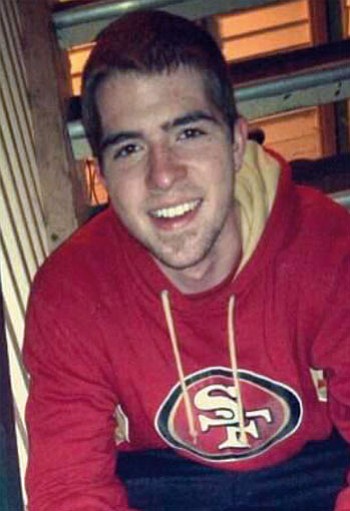 Originally Published: April 19, 2015 6 a.m.
Jacob Gordon Pence was born on Jan. 4, 1995, to Mark Pence and Pamela Himes Jamieson in Las Vegas. While surrounded by his family, he left this earth to be with our Heavenly Father on April 1, 2015, at the age of 20.
Jacob married Kira Lynn Rogers on Sept. 10, 2013. They have two beautiful children, Elijah Liam Pence, born on Dec. 19, 2013, and Isaiah Gordon Pence, born on Oct. 17, 2014.
Jacob's favorite color was green. As a boy, he was rambunctious and had lots of energy. He was very intelligent and had a collection of dragon books that he loved to read.
Jacob always felt deeply and loved deeply. He had a great sense of humor and his laugh was truly infectious. Jacob was blessed with the talent and ability to rap and edit music. Writing lyrics was his specialty. Many of us have been comforted listening to his music that he left behind. His voice will live on.
Jacob was a hardworking man but enjoyed being a stay-at-home dad after Isaiah was born so that Kira could return to work. He spent most of his days with Elijah and Isaiah, teaching them and helping them grow into the precious little angels we see today. He loved playing basketball with Elijah, laughing, and just being weird.
Jacob loved the beach, playing music, and spending time with family. He was a dedicated husband and father. Jacob was loved by so many and left us too soon. He has left a hole in our hearts that will never be filled. But all of our lives were blessed to have known Jacob.
Jacob is survived by his wife, Kira Lynn Pence; sons, Elijah and Isaiah; father, Mark Pence; mother, Pamela Himes Jamieson; paternal grandparents, I.B. and Wanda Pence; maternal grandmother, Jean Himes; sisters, Sharesa, Casey, Marinda, Kaydrea, Arianna, and Saren; brothers, Jordan, Bee Jay, Canaan, and Gideon; numerous nieces, nephews, cousins, aunts and uncles.
He was preceded in death by his maternal grandfather, Glenn Himes, and maternal grandmother, Beverly McKinley.