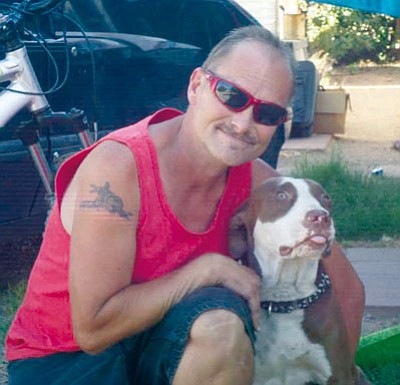 Originally Published: April 20, 2015 6 a.m.
KINGMAN - The stories behind some of the lost dogs still wandering the streets of the city are heartbreaking.
There's Ava, the 10-year-old schnauzer who disappeared Thursday after her owner, Kelly Cahill, returned to work from lunch at home. Cahill, who lives near East Andy Devine and Hoover Street, left Ava in the house with her other dog, Bonzo, but returned later to find Ava missing.
"It's a puzzle to me how she got out and Bonzo didn't," said Cahill. "If she had slipped out when I left, I would have seen her because she would have followed me to the car. I just have no idea. All I know is that I miss her terribly and want her to come home."
Cahill said she walked and drove her neighborhood and the surrounding areas until 1 a.m. Friday, then posted pictures and information on websites advertising lost dogs. Cahill also created 30 flyers and hung them up at veterinary hospitals, dog pounds, pet stores and on telephone poles.
"I've had her since 2008 and she was a rescue from the pound," said Cahill, noting Ava is wearing a pink collar with a tag listing her owner's contact information. "She's been the perfect dog. I'm so stressed out about all this. Ava is just so precious to me."
Ava's story highlights the goal of National Lost Dog Awareness Day, which takes place Thursday across the nation. The event, now in its second year, is designed to remind people that not all stray dogs are homeless. Some are just plain lost.
Lost Dogs of America, a coalition of states that includes Arizona, has documented more than 42,000 reunions since 2011. LDOA facilitated these reunions by providing tips to owners, using Facebook pages for individual states and providing free flyers at HelpingLostPets.com.
LDOA and Lost Dog Awareness Day were created by Susan Taney and Kathy Pobloskie, the directors of Lost Dogs Illinois and Lost Dogs of Wisconsin. They believe awareness helps to return lost dogs to their owners, which reduces stress for both.
Lost dogs are a continual problem for most cities, including Kingman, said Mary Hamilton, shelter operations manager for the Western Arizona Humane Society in Kingman. The agency not only takes strays from the public, but also is contracted to accept them from the city and the county.
"We try to return as many lost dogs as possible to their owners," said Hamilton. "We get a lot of strays in here, and we do our best to get them home. We take it very seriously when people call in looking for a lost dog. We take those reports daily and we encourage owners to come in and take a look to see if their dog is here."
WAHS takes in between 300 and 500 animals a month, which includes strays and lost dogs, said Hamilton. The agency offers a board for postings about lost dogs, and will scan found dogs for microchips at no cost. It also accepts photographs from owners searching for their dogs and will try to match them with the animals they take in.
Sometimes the pictures don't make the identification any easier, though, said Hamilton. For example, a dog that had been missing for about three weeks came into the agency but was very thin and unkempt. It didn't look anything like the photograph its owners had submitted, she said.
Luckily, when the agency took the dog to a local veterinarian, a friend of the owner worked there and recognized it and the two were reunited. Hamilton said the owner had not visited WAHS to see if her dog had been picked up and brought there.
Sometimes the agency goes to great lengths to find an owner, said Hamilton, noting a dog had been at WAHS for two months and had a microchip, but the information on it was incorrect. A volunteer worked for hours to track down the owner, who had moved to Phoenix and lost the dog there three years before.
In 2014, a total of 408 dogs brought to the agency were reunited with their owners or guardians, according to WAHS statistics. From January through March 2015, 115 dogs had been returned to their owners or guardians.
Kingman resident Clifford Stanley, who lives downtown, is looking for Trouble, a 2-year-old brown and white female pit bull. Stanley raised her from a pup and trained her in Spanish. Trouble somehow got out of the yard April 12.
Stanley said the dog is with him almost constantly and gets separation anxiety when they are apart. Trouble is a medical assistance dog for Stanley and alerts him to oncoming seizures or low blood sugar.
"I'm distraught, irritable and depressed because she's gone," said Stanley. "I've had to take extra sleeping pills just to be able to sleep at night. I'm getting ready for surgery to replace my left shoulder and I need her back before then so I don't worry."
Stanley said he walked the streets for hours when he realized she was gone, and has checked out every sighting of his canine friend, who is wearing a black collar with white skull bones on it. He also hung up flyers in the neighborhood, alerted local dog pounds and advertised on the Internet for her return. He's still waiting.
Of course, some stories have a happy ending - which is the point of National Lost Dog Awareness Day - especially when caring individuals make it their business to get involved. Kingman resident Lisa Torch and her 19-year-old daughter, Alyssa Macaranas, are a vivid example of that.
They noticed a beautiful blue Merle Australian cattle dog running loose April 8. Macaranas persuaded the dog to get in the car and they cruised the neighborhood, asking residents if they knew who owned it. No one did, so they brought it home.
Mother and daughter listed the dog - a 2- or 3-year-old female with one blue and one brown eye - on various websites and gave her description to WAHS.
The next day, the owner's sister saw the ad on a website, recognized the dog and contacted Torch and Macaranas. It seems the dog, named Zoey, lived a couple blocks away and had managed to get over the fence and escape. Zoey and her owner were quickly reunited.
"I kept her for two reasons," said Torch. "First, I didn't want to take her to a shelter because I knew they would charge the owners, and I hated to see them pay. Second, we're not far from Hualapai Road and people drive fast on it. I wanted to keep her safe. I don't regret doing this. I would want someone to do the same for my dogs. They're like my children."
Click for home delivery with comics, grocery deals, inserts, TV listings, coupons and more