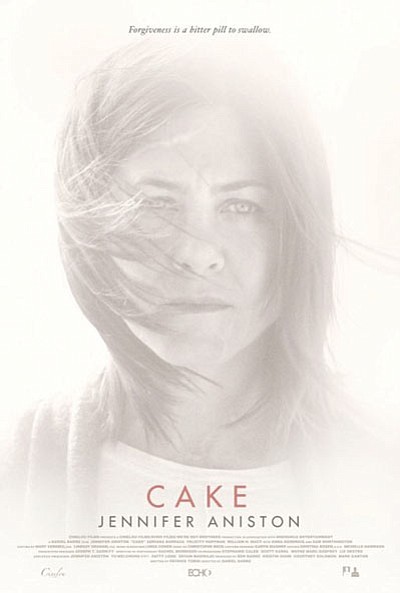 Originally Published: April 21, 2015 6:02 a.m.
DVD/Blu Ray
• Cake (2014) - Jennifer Aniston, Adriana Barraza, Anna Kendrick
Claire becomes fascinated by the suicide of a woman in her chronic pain support group while grappling with her own, very raw personal tragedy (IMDb). Aniston stepped out of her comedic comfort zone for this role, going for something much more mature and emotionally draining than you would expect from her resume. Critics said she nailed it. The trailers show the same. I can't wait to see this.
• Everly (2014) - Salma Hayek, Hiroyuki Wantanabe
An action/thriller centered on a woman who faces down hit men sent by her ex, a mob boss, while holed up in her apartment (IMDb). Not very many positive reviews, but action/thrillers with stars like Hayek can still be fun to watch.
• Aftermath (2013) - Anthony Michael Hall, Tony Danza, Chris Penn, James Harrold
A dark comedy about one man's overreaction. Roma's perfect life unravels when his foreman goes missing and he chooses to fire the wrong guy (IMDb). How did this not get a theatrical release? Filmed in 2006, released seven years later with only a handful of reviews, and then it goes quiet until a DVD release in 2015? I have no idea what to expect from a film like this, especially with actors such as Danza and Penn.
Video Games
• Shovel Knight (PS3, PS4, PSVita)
It's exactly how it sounds: you're a knight armed with a shovel. You go and save the princess. This is an old-school platformer complete with corny dialogue, 8-bit era music, and enough secrets and loot to keep you busy for hours. Previously a Wii U and 3DS exclusive, the game has been ported to PC and now the Playstation family.
• Mario Kart 8: DLC Pack 2 (Wii U)
Aren't you glad that Nintendo finally embraced DLC? One of the biggest games for the system is finally getting its second DLC pack. For $7.99, you get eight tracks, including the dizzying Baby Park (from Mario Kart: Double Dash), Animal Crossing, and an F-Zero inspired Big Blue. The DLC also drops at the same time as a free update to all Mario Kart 8 owners that introduces 200cc mode. Thought you finally tamed Rainbow Road? Better learn to brake and power slide like a pro.
Books
• A Work in Progress - Connor Franta (163 pages)
In this intimate memoir of life beyond the camera, Connor Franta shares the lessons he has learned on his journey from small town boy to Internet sensation so far (Goodreads.com). Franta is a full-time YouTube star and, while I'm not a fan of his work, his story of how he got to where he is today in the YouTube world sounds very interesting.
• The Bone Tree - Greg Iles (816 pages)
Greg Iles continues the electrifying story begun in his smash New York times bestseller "Natchez Burning" in this highly anticipated second installment of an epic trilogy of blood and race, family and justice, featuring Southern lawyer Penn Cage (Goodreads.com).
• Garden of Lies - Amanda Quick (352 Pages)
The Kern Secretarial Agency provides reliable professional services to its wealthy clientele, and Anne Clifton was one of the finest women in Ursula Kern's employ. But Miss Clifton has met an untimely end - and Ursula is convinced it was not due to natural causes (Goodreads.com).