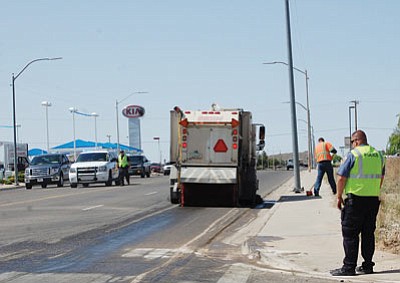 Originally Published: April 22, 2015 6 a.m.
KINGMAN - Traffic on Andy Devine Avenue across from the Martin Swanty Jeep, Chrysler, Dodge dealership was diverted Tuesday morning after a serious two-vehicle crash.
Kingman Police Lt. Bob Fisk said Judie Marion Kovarik, 66, of Kingman was driving a 2003 Ford Taurus, traveling west in the center turn lane for a considerable distance, when Phillip T. Regan, 50, of Mohave Valley, who was hauling 5-gallon water bottles in a Ram 3500 flatbed truck, turned left onto the highway center lane from Navajo Street.
"We don't know why she was in the center lane," said Fisk. "It might have been a medical event."
Fisk, however, said Kovarik swerved at the last second to avoid a head-on collision, but the resultant wreck was still significant. Fisk said a city worker reported he was driving behind the woman as she continued to drive for quite a distance at about 40 mph - the speed limit - in the turn lane.
The woman suffered multiple serious injuries, said Fisk, including broken bones and severe lacerations. Attempts to determine her condition, or if she was transported to a Las Vegas-area hospital, were not successful.
Regan was not injured, despite the fact the impact caused significant damage to the truck, said Fisk.