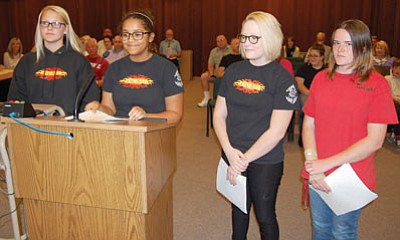 Originally Published: April 23, 2015 6 a.m.
KINGMAN - Soon, people in Kingman probably will have to refrain from smoking inside cars when minors are with them - or risk a fine.
The City Council on Tuesday enthusiastically embraced an ordinance proposed by teenagers involved with the Kingman Youth Coalition Beating Up Teen Tobacco, or KYC-BUTT, and directed City Attorney Carl Cooper to draft a proposed ordinance that would prohibit smoking - including electronic cigarettes - inside a vehicle with a minor present.
Here's what is known so far:
• The law would be a secondary offense. Kingman Police officers would have to pull over an offending motorist for a primary offense, such as speeding, running a stop sign or malfunctioning equipment such as brake lights and turn signals before he or she could cite someone.
• The citation will cost $50, which the Kingman Municipal Court judge could waive if the person completes court-approved tobacco education class. Any subsequent ticket would also come with a $50 fine.
• The goal is to enhance child endangerment laws already on the books.
Currently, the only minors in Arizona who are protected by a smoking ban in vehicles are children in foster care. Nine states, however, already have similar legislation on the books and five others are contemplating enacting the ban, according to KYC-BUTT.
In Arizona, the city of Tempe is considering such a law. Police Chief Bob DeVries, who consulted with the students along with other officials, said Kingman could get the ball rolling in Arizona by being the first city to enact the ban.
For local high school students Stefeni Merrett, Victoria Davis, Madison McKowan and Tatum Newell, Kingman is just the start.
They told City Council members the ultimate goal is to get the ban passed in Kingman and then in Mohave County before lobbying the Legislature for a statewide prohibition. They said they have been in contact with Mohave County Supervisor Jean Bishop and state Sen. Kelli Ward, R-Lake Havasu City.
Cooper and his staff will write a draft of the ordinance and the City Council will hold a public hearing prior to taking action.
Questions that must be answered include locating an approved tobacco education class and whether the ban should apply to all minors under 18 or a more limited age range.