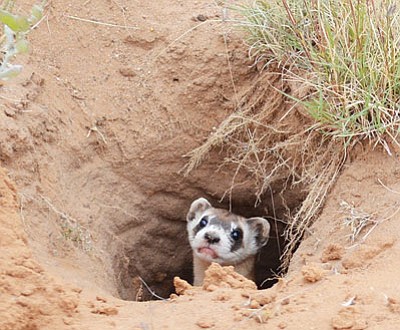 Originally Published: April 24, 2015 6 a.m.
KINGMAN - The annual spring count of the endangered black-footed ferret has sounded alarm bells for biologists with the Arizona Game and Fish Department.
Less than half the number of ferrets was counted in two spotlighting events this spring than last spring, 11 compared to 26, according to Jennifer Cordova, supervisor of the ferret reintroduction effort in Aubrey Valley, just west of Seligman.
Cordova said Game and Fish conducted a second count in April after the initial March count yielded lower-than-expected numbers.
Cordova said there are a number of reasons for the low count. A wet winter meant taller grass, which made it more difficult to see the ferrets' reflective eyeshine during the nighttime spotlighting counts. Prairie dogs, which are the ferrets' primary source of food, were also down in number last year.
"We expected spring spotlighting numbers to be low," said Cordova. "Just not this low."
On the upside, the disappointing count demonstrates the importance of the spotlighting counts if for no other reason than it gives biologists an opportunity to diagnose potential problems quickly, said Cordova.
"We are not sure there is a problem, but we can begin examining potential solutions to specific scenarios as we continue monitoring throughout the year," she said.
"It could be something as simple as the predator-prey relationship, and as they prey-base population improves, so will the population of the ferrets."
Cordova said as biologists look for the cause of the lower population count, they could dismiss a lack of volunteers as the culprit.
She said a total of 165 people, many of them from the Kingman area, participated in this spring's two counts.
The ferrets were once native to Arizona, but consistent efforts to rid grazing land of prairie dogs nearly rendered both species extinct.
In fact, black-footed ferrets were believed extinct until a colony was discovered in Wyoming and an effort to repopulate began, with Arizona's Aubrey Valley chosen as one of the reintroduction area.
The fall spotlighting dates have not been formally scheduled, but volunteers can email their interest to the reintroduction crew at azferret@azgfd.gov. Be sure to write "Fall Spotlighting" in the subject line.