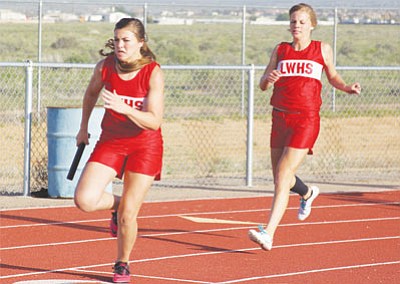 Originally Published: April 28, 2015 4:50 p.m.
KINGMAN - Lee Williams wrapped up its regular season with a striking performance at the Knights of Columbus Invitational Saturday at Bourgade Catholic in Phoenix. The LWHS boys and girls both took second in the 12-team events.
"Many kids ran personal bests, and several kids ran provisional times," said LWHS track coach Joan Abraham. "Unfortunately, the times this year are fast and not all of them will be going to state with those times."
Both teams finished behind Scottsdale Prep, which swept the meet. The boys scored 97.5 points to Scottsdale's 125.5, and the Vols finished ahead of third-place Yuma Catholic (86).
The Vols ended the meet with two first-place finishes. Brendon Allred won the 3,200 meters in 10 minutes, 25.51 seconds. Giancarlo Narvarte took the high jump with a leap of 6 feet, 6 inches.
Scottsdale Prep won the girls meet with 150 points, followed by Lee Williams (105). Tempe Prep was third (73).
The Lady Vols recorded wins in the 400 and 300 hurdles. Megan Barnes won the 400 in 1:05.27, and Melisa Davis was victorious in the 300 hurdles (51.84).
Today marks the end of the Arizona Interscholastic Association track regular season, and several Vols are clinging to spots into next week's Division III state championship meet.
Allred is No. 22 in the 1,600 and No. 21 in the 3,200. The top 26 are given lanes in the individual competitions, and the top 18 relay teams are awarded.
Kody Halliburton is No. 22 in the 100 hurdles, and Kensington Penny is No. 24 in the shot put. Narvarte is tied for the No. 1 ranking in the high jump, and teammate Shannon Townes is tied with several jumpers at No. 20.
For the Lady Vols, Davis is No. 21 in the 300 hurdles, and the 4x800 relay team (Jackie Millim, Alondra Correa, Davis and Barnes) is No. 18. Brianna Colbaugh has a spot in the shot put with her No. 13 ranking, but she is not expected to compete at state due to a shoulder injury. Colbaugh should compete in the discus where she is tied for No. 20. Marli Lauck is holding on to a spot in the triple jump at No. 22.
The AIA is expected to release the official state entries on Monday.