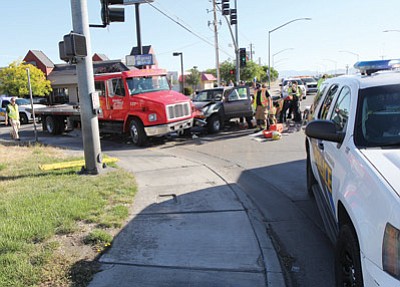 Originally Published: April 29, 2015 10:32 a.m.
KINGMAN - A 70-year-old Kingman man was injured after he drove his 1998 Ford Ranger onto the sidewalk and into a stopped tow truck on Andy Devine Avenue at its intersection with Armour Avenue at about 7:50 a.m. today.
The driver might have suffered a medical episode prior to the crash, as he was unresponsive when a Kingman Police officer responded and began CPR until paramedics arrived.
The driver of the tow truck, who was stopped at the traffic light on Armour, was not injured, according to Kingman Police Deputy Chief Rusty Cooper.
The man was transported to Kingman Regional Medical Center in critical condition and the cause of the crash remains under investigation, said Cooper.