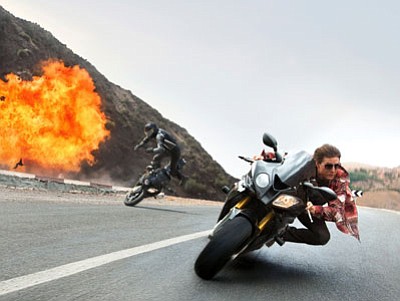 Originally Published: August 3, 2015 6 a.m.
Tom Cruise is actually clinging to an Airbus 400 at 1,000 feet? No CGI? NO STUNT DOUBLE? Real plane, real danger - thank you Hollywood for the cost of admission.
"Mission Impossible: Rogue Nation" begins where "Ghost Protocol" ended - with the introduction of a crime organization known as The Syndicate. A provocative opening scene reveals that Ethan Hunt's year-long pursuit of The Syndicate was not in vain and the hunt for a nameless villain begins in the fifth installment of the "Mission Impossible" franchise.
Action fans: "Rogue Nation" delivers solid action but lacks never-before-seen sequences. What boosts this film to rank as the best in the franchise is the exceptionally well-explained plot and the superb character development. The chase scenes have been hailed as daring, but this film does not have the best chase scenes - it has the best chase scene crashes. Twist upon twist will keep fans engaged and curious.
The character development is mature and confident. Rebecca Ferguson ("The White Queen") and Sean Lane (best known for "Deliver Us From Evil") provide exceptional performances. Ferguson shuns the damsel in distress role as she brilliantly executes her character with assertive femininity; a strategy that is rarely observed in the action genre. Lane provides a menacing awkwardness that is both cryptic and unsettling.
Simon Pegg remains an underrated actor as he deftly switches between expert technical officer and jester. Alec Baldwin - as CIA Chief Hunley - provides an aggressive wit that is reminiscent of every boss you've loved to hate.
Then there is Cruise. Cruise is not an amazing actor. He's a determined, boyishly good-looking actor who is committed to being fully immersed in every aspect of a role, including performing most of his own stunt work. Yet, much like the legendary men of the "Bond" series, he's expendable as Ethan Hunt.
"Rogue Nation" gives you a solid plot and great cast cohesion - 3.5 out of 4 Miners