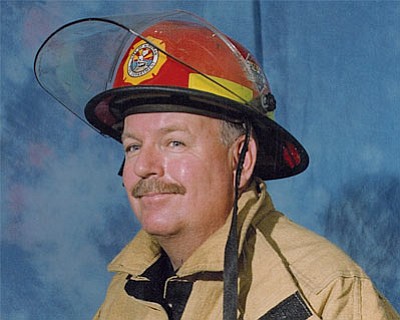 Originally Published: August 5, 2015 12:06 p.m.
William "Bill" Nelson Johnston Jr., 59, died Saturday, Aug. 1, 2015, at his home. Bill was born July 15, 1956, in Kingman. Raised in Kingman, he moved to Morenci, Ariz., where he graduated from Morenci High School in 1974.
From 1974 to 1978 he served in the United States Navy with a majority of his time on the USS Sperry. After an honorable discharge, he moved back to Kingman. In 1982, Bill was hired as the first non-volunteer engineer, beginning his career with the Kingman Fire Department. He was promoted to captain in 1987. He worked as fire prevention captain for many years and was known by the school kids as "Fireman Bill." Later, in 2005, he was promoted to battalion chief. Bill was a pioneer for KFD in the means of hazardous material, public information officer, and emergency medical services. He was serving as president of the Western Arizona Council of EMS. He was heavily involved in the Local Emergency Planning Committee and the Mohave County Fire Officer's Association. Bill instructed CPR, EMT and paramedic courses to many firefighters, ambulance pesonnel and community members.
He married Casey DeHerrera on May 18, 1980, and he gained a stepdaughter, Jessica Lopez. Casey and Bill had two children together: Shari Lynn and Marc William. He later married Nancy Shelden on Jan. 3, 2005, and he gained stepson Jake Miller and stepdaughter Victoria Miller.
Bill enjoyed playing many sports, including basketball, softball, golf, fishing and bowling. He was an amazing horseshoe player. Coaching softball was a passion of his for many years. He loved traveling, cooking "gourmet" food with love, and landscaping. Recently he began gold prospecting, but with no luck of striking it rich. Bill was a good man, very personable and well-liked by everyone. He will be missed.
He is survived by his wife, Nancy; step-daughter Jessica Lewis; daughter Shari (Robert) Conner; son Marc (Tasha) Johnston; step-daughter Victoria Miller; step-son Jake Miller; four grandchildren, Caden Conner, Guy Conner, Max Conner and Carter Johnston; four siblings, Diane Winters, Copper "Chris" Light, Richard "Rick" Johnston and Char Johnston; and many other nieces, nephews, relatives and friends. Bill is preceded in death by his mother, Betty Sue Johnston, father William Nelson Johnston and stepmother Shirley Johnston.
Memorial services for Bill Johnston will be held at 1 p.m., Saturday, Aug. 8, 2015, in the auditorium at Lee Williams High School, 400 Grandview Ave. A reception will follow in the cafeteria.
Memorial donations can be made in lieu of flowers to Bill Johnston at Wells Fargo Bank. All donations will be given to the Kingman Fire Fighters Association Scholarship Fund.