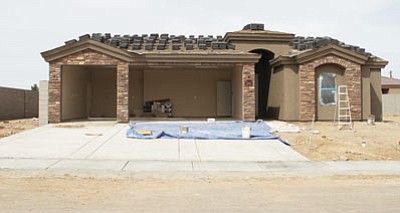 Originally Published: August 5, 2015 6 a.m.
KINGMAN - Desperate might not be the best adjective to describe the City Council in its never-ending quest to find more revenue, but the description could fit like a glove in the near future if members don't find success.
Finance Director Tina Moline recently provided the City Council with two possible avenues the city could take in an effort to bolster sales tax revenue, the city's only local source of funding.
Both that would require voter approval to enact.
One is to establish a primary property tax in Kingman for the first time in 35 years. The second is to remove the Kingman Fire Department and its $6.3 million annual budget from the city's control through the creation of a fire district.
Either way, the burden would be on property owners to pay the tab.
The Council in office in 1980 voted to do away with a primary property tax in Kingman permanently, Moline noted. While they were undoubtedly heroes back then, subsequent Councils have, at times, struggled to pay the bills when the economy was down.
Fateful decision
Two Councils asked voters to reinstitute the property tax on two occasions, the last occurring in 2000. The Great Recession didn't spare Kingman and the city cut more than $1million from its budget as the city's assessed valuation dwindled by nearly $90 million between the 2009-2010 and 2014-15 fiscal years.
To avoid financial catastrophe, the Council from 2010 to 2013 added 2 percent to the sales tax on hotels, 2 percent on sales tax at bars and restaurants (which it would cut in half one year later), and a half-cent increase to the retail sales tax in 2013 that was supposed to be temporary, but will likely be made permanent in a couple of months.
The city's share of sales tax is 2.5 percent, which brought in $14.1 million last fiscal year. Hotel and restaurant and bar taxes brought in an additional $720,000 and $700,000, respectively. Sales tax accounts for 54 percent of the city's entire budget.
Assuming growth would occur at the annual rate of 2 percent, Moline said expenditures would exceed revenues by nearly $4 million by 2020.
The options are simple in theory, but likely exceedingly difficult in fact. Moline said without additional revenue, the city would have to reduce services, and a $4 million cut would devastate the city's ability to operate.
City Manager John Dougherty was quick to point out that Council and staff would adjust spending before things got out of hand.
And while Kingman is far from the only city in Arizona that boasts no local property tax, the city is unique in a number of areas.
Of the 91 cities in the state, 38 have no primary property tax. Eighteen of the 38 provide police and fire service, said Moline.
The average tax rates for those 18 cities compared to Kingman is as follows:
• Sales tax, 2.72 percent
Kingman, 2.5 percent
• Food tax, 2.44 percent
Kingman, 0 percent
• Bed tax, 5.32 percent
Kingman, 6.5 percent
• Restaurant and bar, 3.11 percent
Kingman, 3.5 percent
The options
Using property tax levies of $1 million, $3 million and $6 million, with property owners paying $100 per $100,000 of assessed value, Moline said the yearly cost would range from less than $60 for the $1 million levy to about $340 a year using the $6 million levy.
The city's assessed values have dropped dramatically since 2009-10, when Kingman's assessed valuation was more than $264 million. It dropped by more than $13 million the following year, by more than $43 million in 2011-12, another $13 million in 2012-13, nearly $10 million in 2013-14 and more than $9 million last year, when the assessed value was pegged at nearly $177 million.
Sales tax
Nobody on the City Council has advocated for once again increasing the sales tax, but Moline provided them with anticipated increases should members decide to go that route.
A half-cent increase would bring in an additional $2.8 million in sales tax, $90,000 in room tax, $350,000 in restaurant and bar tax - and $440,000 should the city establish a tax on food, which is another possibility nobody seems interested in pursuing.
A 2 percent increase in those same categories would raise significantly more revenue, from $360,000 added to room tax collections, to $11.2 million in retail sales tax. A 2 percent food tax would bring in nearly $1.8 million.
Fire district
Fire districts in Arizona are in a bad spot with severe legislative limitations placed on how much revenue they can collect. The Kingman Fire Department is funded through the city's sales tax revenue and is not impacted by the laws. Assistant Chief Keith Eaton to pointed out that districts want to become municipal departments, not the other way around.
Right off the bat, the district's annual budget, based on the revenue limit that caps the rate at $3.25 per $100,000 assessed value, would lose more than $500,000 its first year.
In order to provide the district with the department's current annual operating budget of $6.3 million - representing 45 percent of what the city collects in sales tax - the property owner of a $100,000 home would pay about $356 a year.
Timelines
The timeline to create the district could take up to 16 months, and that's if there are no obstacles to overcome - such as voters rejecting the idea. Another 14 months would likely pass before revenue began coming in if the measure were approved.
The timeline for the establishment of a primary property tax would begin if and when voters approve the tax, which could occur in a special election held in May. If passed, property owners would be mailed notices of their home's value the following February, with rates set in August 2017. Property tax statements would be mailed out in September and the bills would be due in October.