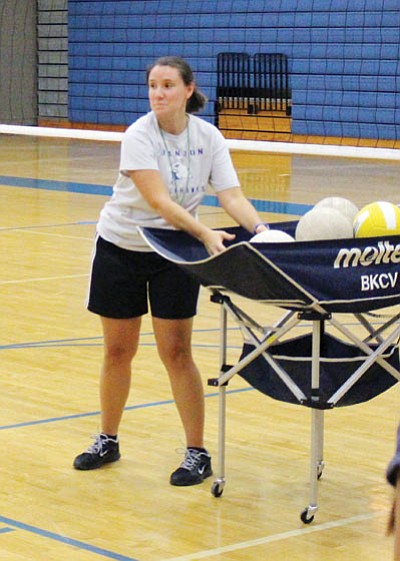 Originally Published: August 7, 2015 6 a.m.
KINGMAN - Tryouts and practices begin Monday for the Kingman High Lady Bulldogs volleyball team, and first-year coach Danielle Walker seems to have her first issue as a varsity coach under control.
By the looks of Wednesday's open gym at KHS, the amount of girls trying out for the three volleyball squads won't be an issue. More than 30 players were present.
"I'm glad we have tons of girls out here now," Walker said. "I just want to get this program known and get the numbers up."
Walker was the JV coach for Kingman last season and then was promoted to varsity. KHS athletic director John Venenga said he wanted an on-campus coach, and the decision to offer Walker the varsity job took her aback.
"I was shocked but also excited," she said. "I love to be part of playing and coaching volleyball, and I thought that this would be a great experience."
Walker inherits a team that went 13-19 last year. The Lady Bulldogs graduated eight off the roster, which leaves plenty of spots available for those 30 girls to compete for. The coach is looking forward to working with the returners.
"We have some good talent, and I'm excited to work with them," Walker said. "I didn't get to work with the varsity girls last year. I know we can do some good things."
Venenga tracked Walker's work last season and liked what he saw. The athletic director said he feels Walker is right for the job.
"Danielle is very organized and has a great rapport with the girls," Venenga said. "She knows how to talk to the girls, and I think she'll do a great job coaching that group."
Sophomore Courtney Mossor played for Walker on the JV team and hopes she'll grab one of those open varsity spots. Mossor was quick to smile when asked about her volleyball coach.
"She gets really close with you, which helps you improve," Mossor said. "She doesn't pick favorites. She works with the whole team, and she's a really nice and fun coach."
Mossor likes Walker's balance between encouraging and correcting her players.
"She does really well working with the team by building up our confidence and working on our weaknesses," the sophomore said. "She'll tell you what you need to work on, and she'll tell you the positives."
Walker expects improvement from her players and for them to respect the team concept.
"It's not about one player," she said. "It's about the team and the program. They need to be together and work together from the varsity on down to freshmen and build this program together."
The Lady Bulldogs open the season against Northwest Christian at home on Sept. 8.