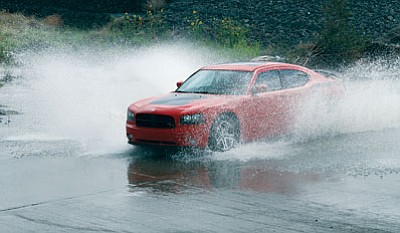 Originally Published: August 9, 2015 6 a.m.
KINGMAN - Scattered showers and thunderstorms passed through the area Thursday night and early Friday morning, dropping between a half-inch and three-quarters of an inch of rain in most neighborhoods, the National Weather Service reported.
The greater amount of rain fell in the northeast area, toward Kingman Airport, while Kingman proper received a lesser amount of rain, said Chris Outler, NWS meteorologist in Las Vegas.
The thunderstorms moved out quickly and skies were fairly clear by Friday afternoon, with some lingering clouds in the Hualapai Mountains.
The forecast for today is mostly sunny with a high near 95 and winds from the southwest at 9 mph. Overnight will be clear with a low of 72.
"Most of this moisture is a quick push from the south and interacted with a Pacific storm system," Outler said. "That's why we had this widespread shower and thunderstorms falling most everywhere."
Nearly all parts of Mohave County picked up at least one-tenth of an inch in a 24-hour span, he said.
It wasn't enough to wash out roads and cause the level of damage seen during last year's monsoon season, which brought more than 9 inches of rainfall to Kingman.
County officials received no reports of flooded roads following the storm, though staff is inspecting areas that received the most intense rainfall to address any repairs that may be necessary, Public Works Director Steve Latoski said.
A section of Oatman Highway where the Sacramento Wash crosses into a watershed was closed Friday until standing water had subsided and debris was removed.
"While we have seen isolated strong storms in the Yucca area this summer, we have not seen a widespread event such as tropical storm Norbert triggered in September of last year," Latoski said.
Overall, rainfall has been light and steady, and there's been a break between monsoon systems, NWS' Outler noted. Kingman could see moisture return by Tuesday afternoon, especially towards the east.
Climatologist Nancy Selover at Arizona State University reported 0.92 inch of rainfall in July, and only one 100-degree day during the month. June's rainfall was close to 1.5 inches, and her year-to-date total is right at 5 inches.
"You're almost an inch above normal," she said. "We're anticipating seeing the same thing as last year. It's not too late. There's great potential for a wet monsoon."
The first big storm didn't hit Phoenix until Aug. 12 last year, bringing 3 inches of rain, and the 6-inch storm came on Sept. 8, Selover recalled.
AccuWeather.com shows 5.41 inches year to date, not including the most recent storm, compared with 2.73 inches a year ago.
Ann Cherry, who measures rainfall at her home in Hualapai Foothills Estates, found 0.4 inch in her gauge Thursday, then just a trace Friday morning.
"Not even measurable to one-fifth, but I did empty a bottom layer of water from the rain gauge," she said.
Click for home delivery with comics, grocery deals, inserts, TV listings, coupons and more