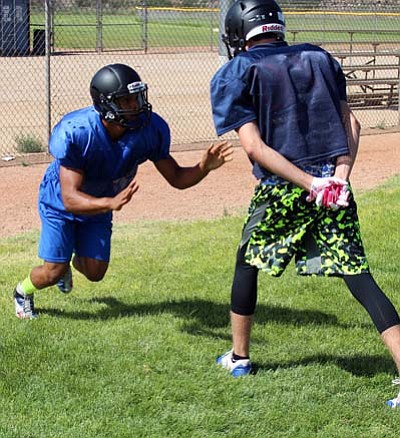 Originally Published: August 9, 2015 5:59 a.m.
KINGMAN - A season ago, the Kingman Academy football team took a major step in its program with an appearance in the Division V state playoffs. The Tigers want to build on that success and their fortitude may be the first sign of growth after the first week of practice ended Saturday at Southside Park.
"I thought that on Monday we killed them," said KAHS football coach Dan Stroup. "I questioned the resolve of this team, but they came back after the first day that looked like a hospital zone with guys hurting everywhere."
This is Stroup's second season at the helm and his 30th overall coaching football. Academy starts its season with size and strength, a couple of things it lacked at the beginning of last year.
"Our line is way bigger than our line last year, and our kids were on the weights this year," the coach said. "All of that credit goes to Coach John Morgando."
One of Morgando's biggest successes is junior running back/defensive end Jordan McDowell-Seybert. He averaged 8 yards per rush and was third on the team with 77 tackles last season. McDowell-Seybert has added nearly 20 pounds of muscle and is listed as 6-feet and 180 pounds. Stroup wants to see the other players follow McDowell-Seybert's work ethic.
"He sets a high standard," the coach said. "They see him as someone special, and he is, but it's about his hard work. Hopefully, the team will catch fire with his example. The whole idea is for everybody to get caught up with his work ethic."
McDowell-Seybert's athleticism and strength is the envy of nearly every athlete who competes with or against him, but he sees the need for the Tigers' offense to slow down in order to be successful.
"If we take the patience in the pocket for both passing and running, it'll make our offense amazingly promising," the junior said.
Tristen Pitts, Clayton Holloway and Gavin Lowry join McDowell-Seybert in the backfield, which gives the Academy four different running styles. Sophomore Kekoa Makaiwi-Stroup has added arm strength to his arsenal at quarterback and has a trio of tight ends - senior Matt Timmerman, junior Andrew Quick and sophomore Kannon Butler - with speed and size for targets.
On the offensive line, returners Dillon Zorn and Mitchell Lobue have newcomers Bryan Jones (a transfer from Texas), sophomore Julian Lovato, and junior Dan Wright joining them.
"On paper we have a good group," Stroup said. "But we don't play on paper. We're young, but everyone is stepping up."
The Academy opens the season versus Bourgade Catholic Aug. 29 in the Walkup Skydome in Flagstaff.