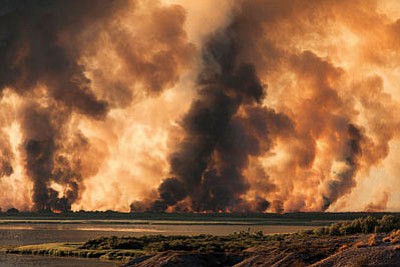 Originally Published: August 11, 2015 10:36 a.m.
KINGMAN - Firefighters have gained the upper hand on the Willow Fire, which is 40 percent contained after it burned more than 6,700 acres since lightning sparked the wildfire near the Havasu Wildlife Refuge near Topock Saturday morning, according to Inciweb, a national wildfire database.
All of the people who were part of a mandatory evacuation over the weekend - involving 850 homes - have been allowed to return home. The evacuation for the last of them, representing about 100 homes in the Topock Rancheros area, was lifted at 10 a.m. this morning. Firefighters warn, however, that conditions remain dangerous and alerted residents and motorists driving in the area to be aware of possibly damaged buildings - there are reports at least 11 homes were damaged or destroyed - damaged utilities and hazardous materials, such as propane tanks.
Smoke, of course, remains a concern and there are pockets of smoldering stumps, ash pits, hot spots and weakened trees.
Fueled by salt cedar, mesquite, willow, brush and grass, the fire spread in all directions to encroach on state and federal lands, as well as private property.
Roughly 300 firefighters remain on scene conducting mop up activities, improving fire lines and starting rehabilitation work.