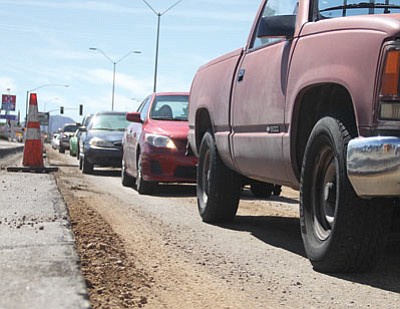 Originally Published: August 12, 2015 6:02 a.m.
KINGMAN - Restoring road funding will once again be a top priority when a group that lobbies for Arizona's local governments meets next week.
Kingman Mayor Richard Anderson will be among the attendees at the Arizona League of Cities and Towns' annual conference, and he will, on behalf of the City Council, vote on a number of resolutions the league will advocate for when state lawmakers convene in 2016.
Without a doubt, the most important proposed resolution impacting Kingman is an ongoing push to force the Legislature to restore to 2008 levels Highway User Revenue Funds - gas tax - lawmakers took from cities to balance the state budget during the Great Recession.
Human Resources Director Jackie Walker noted the state distributes $30 million to counties, cities, and other entities minus the share set aside for the Arizona Department of Transportation.
While the $30 million is better than nothing, lawmakers reneged on a scheduled increase to $60 million that was supposed to come in the 2016-2017 fiscal year.
"The end result of these actions will decrease the HURF sweep from $89 million (this fiscal year) to $54 million in fiscal year 2016," said Walker, who noted that cities and towns received a portion of HURF funds over the past two years.
HURF funding is the primary source the city depends on to maintain roads.
This will be the third consecutive session the league has lobbied for full restoration and is listed as a legislative priority.
In another matter, Anderson will vote to support funding to accelerate the design and construction of State Route 189 as part of the transportation department's five-year plan.
The short highway is in Nogales and the city was initially neutral on the project, but Councilwoman Jen Miles noted the highway is an important element in the future construction of Interstate 11, which will initially link Phoenix and Las Vegas - and come through Kingman - before ultimately stretching from Mexico to Canada.
Here's a brief synopsis of other issues Anderson will vote on:
• Renewable Energy and Conservation Financing Districts: This would establish a statutory mechanism enabling local governments to create renewable energy and conservation financing districts for commercial properties. If passed, property owners could finance their own energy efficiency improvements, including renewables and water conservation.
The city supports this item.
• Economic Development Reimbursement Authority: If passed, cities would be able to invest in infrastructure and other improvements in a designated area by increasing property taxes generated by the new development - and impact only property owners in that specific location.
Anderson will vote in favor, but Walker pointed out it would not be a benefit to Kingman since there is no primary property tax in the city.
• Public Safety Pension Reform: This item would reform the retirement system for public safety workers. Essentially, the city supports the concept of reform and would be interested in evaluating any proposals that would make the system healthier.
• Public Records Requests: If passed, this would amend state laws regarding public records requests that are overly broad or abusive or from people who make constant requests. The bill passed the Senate last session but it bogged down in the House. The state's newspaper association supports the item, which has been discussed over the past several sessions. The city is neutral.
The annual conference will be held in Tucson and next week's City Council meeting has been canceled.