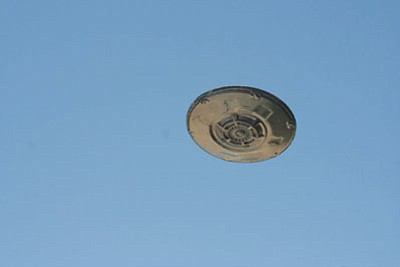 Originally Published: August 12, 2015 6 a.m.
The truth is out there.
That's what I keep telling myself, especially now that "The X-Files" is returning for a miniseries in January. The idea that we are not alone in the universe, that there are extra-terrestrials exploring the cosmos just like we are, is more easily believed than accepted. Like many people, I remain skeptical in the absence of indisputable evidence.
Unfortunately, you won't find that evidence in this week's "Yesteryear" concerning an alleged UFO crash in 1953 outside of Kingman.
If anything, the evidence presented creates more questions than answers. The mystery, and the very real chance that we may never know what happened on May 21, 1953, makes this story that much more interesting.
Operation Upshot-Knothole
In 1953, the Nevada Test Site was testing a variety of methods of payload delivery, and in May of that year they were preparing a series of tests under the series "Operation Upshot-Knothole."
Eleven tests were carried out through air drops, towers and a gun-deployed warhead shot out of an artillery piece named Atomic Annie.
The most telling evidence of a possible UFO crash in the Kingman area came from an engineer on that test in Nevada. According to the engineer's narrative, he was taken to work under "Project Blue Book," an Air Force investigation of UFO phenomena conducted through 1969.
The engineer
His narrative was transcribed and written by Raymond E. Fowler, a regional investigator with the National Investigations Committee on Aerial Phenomena, in 1973. The narrative below was taken from the engineer's journals at the time:
I worked most of the day on Frenchman Flat on May 20. Drank beer early in the evening then received a call from the over-all test director, Dr. Doll, telling me to go on a special job the next day.
May 21. Again worked most of the day in Frenchman Flat. Was driven to Indian Springs Air Force Base near the proving ground around 4:30 p.m. We were told to leave all valuables in the custody of the military police. I left wallet, watch, pen, and other things I don't remember. We (about 15 of us) were put on a military airplane and flown to Phoenix.
At Phoenix we were put on a bus with about 25 other people who were already there. The bus windows were all blacked out so that we couldn't see where we were going. We rode for approximately four hours. I think we were in the area of Kingman, Arizona, which is northwest of Phoenix and not too far from the atomic proving grounds in Nevada. During the bus trip, we were told by an Air Force full colonel that a super-secret Air Force vehicle had crashed and that since we were all specialist in certain fields, we were to investigate the crash from our own specialty and nothing more.
We disembarked from the bus one at a time as our names were called and escorted by military police to the area that we were to inspect. I noticed that as I was walking to the vehicle, that it was saucer-shaped. It was about thirty feet in diameter. The material looked like brushed aluminum. The entranceway was vertically lowered and apparently had jarred open. There was a light coming from inside, but it could have been installed by the Air Force.
My particular job was to determine from the angle and the depth of the impact into the sand how fast the vehicle's forward and vertical velocities were at the time of impact. The impact had forced the vehicle approximately twenty inches into the sand indicating that its sinking speed was about twenty feet per second and its forward velocity around 100 knots. This normally would have pretty well destroyed an ordinary aircraft. There were no landing gear per se. There also were no marks or dents that I can remember on the surface, not even scratches.
Questions asked having nothing to do with our own special areas (I found this out in talking with others later) were not answered. At the time of the incident, the idea that it may have been a UFO did not cross my mind. I simply accepted the fact that it was a secret Air Force job. After the inspection, we were interviewed, using tape recorders, by military people. We were told that we would be contacted back at our respective bases relative to proofreading the final report. I was never contacted. We boarded the bus, and I was back at the proving ground in Nevada in time to go to work at 7 a.m.
Three weeks later after I was home, I was in a drive-in theater in Dayton when a short subject having to do with UFO's was being shown. (REDACTED), who was in the movie and was the Air Force Material (REDACTED) Chief, informed me that this was the "Blue Book" area of Wright-Patterson. I recognized a colonel in the movie as the same colonel on the bus in Phoenix. I don't recall his name or if I even knew it.
Fowler's report in 1973 contained other information about the UFO crash in the Kingman area, pulled from telephone conversations with the unnamed engineer. Per the report, a body was found within the UFO that was "covered with a silvery, aluminum-colored suit" and was about 3½ feet tall with a dark complexion.
The report from Fowler is the only public record of the crash in 1953. A public records request in 1978 by then-Mohave County historian Roman Malach received a response from Sen. Dennis DeConcini, acknowledging Project Blue Book and encouraging Malach to look further into the issue in the government's archives. No other evidence was found pertaining to a crash in May 1953.
More like this story