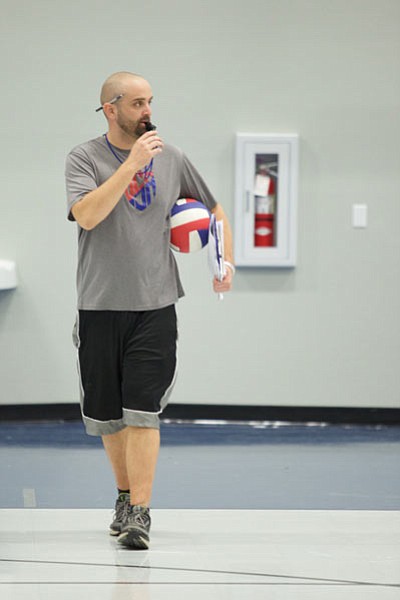 Originally Published: August 13, 2015 6:02 a.m.
KINGMAN - In each of the first two seasons in the Arizona Interscholastic Association for the Kingman Academy High School volleyball team, the Lady Tigers managed three wins while losses were in double figures.
The seniors on this year's squad are getting acquainted with their third coach in four years, Ken David, and the team is upbeat and energized having David in the gym with them.
Reagan Haynes is one of those seniors and has also worked on her game with Kingman High volleyball coach Danielle Walker and Lee Williams High volleyball coach Traci Rosenbach. Haynes has a lot of experience with coaches and is filled with pep regarding her new coach.
"He stays positive and keeps it light while staying focused," Haynes said about David. "That really helps you stay on task. He has us do something hard and then rewards us after."
David comes to KAHS after being at Kingman High for several years. He was part of the KHS administration and coached JV volleyball for a couple of seasons along with a year of boys varsity tennis. He was out of coaching last year and has returned to the classroom as well, now teaching at Kingman Academy Middle School.
"I feel refreshed," the coach said. "It's a lot of fun and it's a lot of work. These girls want to work. They've been putting in the work at open gyms and in the weight room since June. That shows me how excited they are."
David hails from Pennsylvania, where he was all-conference and all-district in boys volleyball for three seasons. He then played for East Stroudsburg University and returned to his alma mater at Lake Lehman High to lead the boys squad for two seasons.
Former KHS principal Janelle Victory gave David a ringing endorsement to Kingman Academy, and KAHS principal/athletic director Jeff Martin and the interview team grabbed him.
"No. 1 as a person we like his morals, expectations and he's just a good guy," Martin said. "He seems to have good relationships with the girls already and he brings experience with him. I'm just getting to know him, but it's real easy to communicate with him."
For Haynes and the other players, David has brought with him a gritty attitude and the players are buying into it.
"They all like him and seem to have a positive vibe with him," Haynes said. "They're all really determined. We've got girls who have played club ball and they all want to be here."
David's eyes light up when he speaks about volleyball and his new job. It's no wonder the Lady Tigers are responding favorably to him.
"This is my passion," the coach said.
Kingman Academy opens the regular season Sept. 2 at Chino Valley.