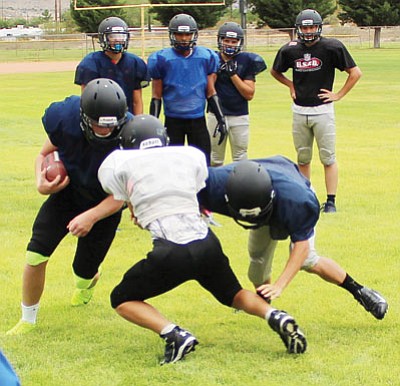 Originally Published: August 16, 2015 6 a.m.
KINGMAN - There's nothing to panic about in the Kingman Academy football team's practice camp as the Tigers closed Week 2 of preseason.
"I'm very satisfied," said KAHS football coach Dan Stroup. "We're on schedule. We're chomping. We want to get competitive."
A part of preseason football is finding the hidden gems, and Stroup thinks he's found three. Junior Noah Weiler, sophomore Shane Padilla and freshman Trevor Lowry are in their first seasons with the Tigers.
Weiler seems ready to contribute to the Academy's offensive attack playing in the slot to catch screens and swing passes.
"Noah does a great job of clutching balls away from people," Stroup said. "He's powerful and can ricochet off of people. He's been pretty impressive."
Padilla transferred to KAHS from Kingman High and comes with decent size, 6-3, 185 pounds. Padilla is behind senior Matthew Timmerman on the strong end depth chart, but Stroup is confident a role will be found for him.
"Padilla has wheels, and he's fairly natural to what we're doing," the coach said. "He loves playing and loves hitting."
Lowry brings raw skills to the Tigers, and Stroup looks forward to the time when Lowry gets his football IQ up to par.
"He's a real hitter and will take on any guy," Stroup said. "If the other things start clicking, he's going to be a good player."
The running backs - juniors Clayton Holloway, Jordan McDowell-Seybert, and Gavin Lowry along with senior Tristen Pitts - had a great week at practice and have Stroup enjoying the thoughts of game planning for them.
"They've run really well," the coach said. "We just might have a three-headed monster here."
Sophomore quarterback Kekoa Makaiwi-Stroup continues to take positive strides. Makaiwi-Stroup is hitting his targets at an 80-percent clip.
"His play action looks great and he can do the drop backs," the coach said. "He's running the team."
Stroup is pleased with the athleticism on the defensive side of the ball, but he's still waiting for the unit to start understanding the scheme.
"We're still developing. We're an attack, gap-cancellation team," he said. "The hardest thing for them is that they do have a responsibility. Once they get that, we'll have a solid group of guys."
Academy ends its third week of preseason practice with a scrimmage at 10 a.m. Saturday at Laughlin. The Tigers open the regular season at noon Aug. 29 versus Bourgade Catholic in Flagstaff.