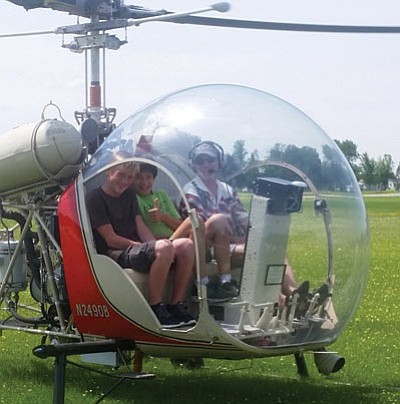 Originally Published: August 17, 2015 6:02 a.m.
KINGMAN - In the world of experimental aircraft, Oshkosh, Wis., is a sacred place. Home to the Experimental Aircraft Association headquarters and host of a massive air show each July called Airventure, Oshkosh and experimental aviation are nearly synonymous with each other.
For one young aspiring aviator, it was a place to learn about aviation and get a taste of what it's like to be a pilot.
Nic Depner is no stranger to aviation. His father, Eric, is a member of the Experimental Aircraft Association Chapter based in Kingman. Before Nic was 11 years old, his parents bought him Microsoft Flight Simulator and had him take his first flying lesson.
Nic was part of the Young Eagles program, and the local EAA chapter in Kingman sponsored him to go to a Young Eagles camp in Oshkosh in June.
There, he learned about wing design and attended ground school, learning about taxiing, airspace and teamwork. Nic also flew a Cessna 172 during camp.
"It was exciting and empowering," said Nic. "It's a lot like a roller coaster."
During his flight, he experienced 0-G and high G forces when doing steep bank turns. He also had the chance to ride in an experimental Bell 47-G2 helicopter.
Nic wants to get his pilot's license when he turns 17 and plans to attend Embry-Riddle Aeronautical University in Prescott, studying to become either a commercial pilot or an aerospace engineer.