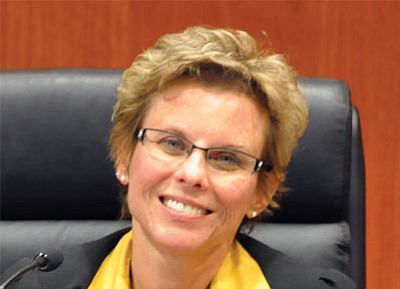 Originally Published: August 18, 2015 6:02 a.m.
KINGMAN - Two proposals to change the paid time-off policy for Mohave County employees were discussed at Monday's Board of Supervisors meeting, and the board voted 5-0 to delay action on the changes for at least 30 days.
Supervisor Hildy Angius said it's going to be a very difficult decision to change the PTO policy and she was not prepared to vote on the issue Monday.
"This has been the most difficult thing for me since I became a supervisor," she said. "I keep hearing things that don't add up. I'm still not sure."
Board Chairman Steve Moss made the motion to continue the matter for 30 days to gather more input. He wants the policy posted on the county website for comments.
The two proposals presented by Human Resources Director Ken Cunningham are: 1) to roll over excess PTO hours into catastrophic sick leave; or 2) to separate PTO into vacation hours and sick hours.
Existing policy allows for current employees to carry over up to 900 hours of paid time off to the next calendar year.
Cunningham's proposal would reduce those hours over the course of seven years to 400 hours. Excess hours would be rolled over into a catastrophic sick leave bank, with a maximum of 600 hours. Employees would be paid $3 an hour for unused sick leave upon separation.
The way the policy is written, the reduction in PTO carryover hours could be stopped at 600 hours, he added.
Cash out at separation would remain the same at 400 hours for current classified employees, and would be reduced from 600 hours to 400 hours for unclassified employees. Cash out for employees hired after Jan. 1, 2016, would be 300 hours.
Cunningham said 89 classified employees would be affected by the change from 600 hours to 400 hours for cash out. Thirty-one employees with 900 rollover hours would be affected.
During public comment, Superior Court Clerk Virlynn Tennell told the board she was "vehemently opposed" to separating PTO into vacation and sick time. The current policy rewards workers who use PTO as intended, she said.
Others may have a tendency to abuse sick leave, calling in sick while they stay home and decorate the Christmas tree, Tennell said.
Superior Court Presiding Judge Charles Gurtler asked the board to be "judicious" in its decision. It would not take a mass exodus of staff to create chaos for the courts, he said.
The court has difficulty in recruitment and retention of employees as it is, the judge said.
Mohave County has twice the caseload of Cochise County, yet Cochise has 87 full-time court employees, compared with 82 in Mohave County.
The court's probation department has a 25 percent turnover rate, and will probably lose more probation officers over uncertainty with PTO, Gurtler said.
Supervisor Gary Watson drew a smattering of applause from county employees attending the board meeting when he said the county should continue to honor the promises made to those employees. They're vested in PTO rights, he said.
"I have no intention of coming off that promise this week or next week or any week thereafter," Watson said.
In other agenda action Monday:
• The board voted 5-0 to continue an item regarding funding of the Office of Management and Budget, along with discussion of the overall structure of OMB, including the chain of command, staffing and project determination.
• The board voted 4-1, with Moss opposed, to adopt 2016 tax levies and rates for Mohave County tax authorities such as special districts, school districts and fire districts. That includes a 15-cent increase in the primary property tax rate, a 10-cent reduction in the library district tax and 5-cent reduction in TV district tax.
• The board voted 5-0 to ratify the fire emergency declaration to address the fire in the Lake Havasu National Wildlife Refuge and vicinity, also known as the Willow Fire.