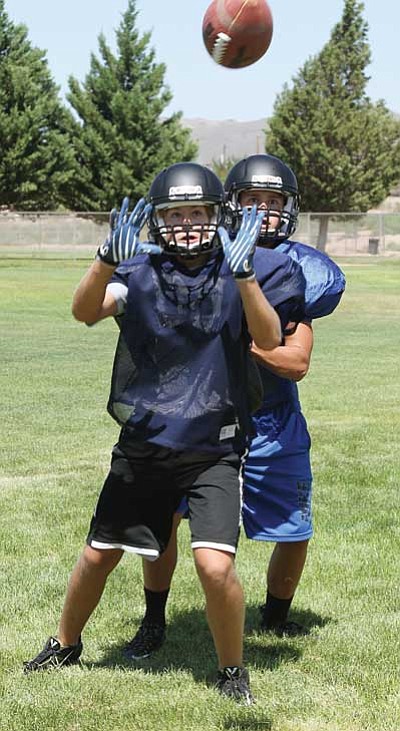 Originally Published: August 23, 2015 5:59 a.m.
KINGMAN - It was a good day's work for the Kingman Academy football team in the Tigers' scrimmage at Laughlin Saturday. The offense put together about 10 touchdown scores, and the defense had its claws in Laughlin early on.
"It went well for what it is in scrimmages," said KAHS football coach Dan Stroup. "We came away without any injuries, and that's a big thing."
Stroup glowed about the first 40 plays of the scrimmage - 20 offensive plays for each team - saying the Tigers dominated.
"I was real happy," the coach said. "We held them to no first downs and everyone was playing well. Laughlin has really improved, and their line was bigger than ours."
Sophomore quarterback Kekoa Makaiwi-Stroup had four touchdown passes, and the running game scored about six times.
"The line was great with its protection," Stroup said. "Koa was only flushed from the pocket once."
Defensively, ends Matthew Timmerman (a senior) and junior Jordan McDowell-Seybert shined for the Academy with three sacks each.
"They provided a lot of pressure on their offense," the coach said. "We do need more pressure from the inside."
Stroup said his young secondary held up well against the Cougars, but also conceded that Laughlin's passing game didn't do a whole lot to pressure his defensive backfield. Freshman Trevor Lowry and sophomore Jacob Kidd were solid for the Tigers.
Junior Dallyn Chapman stood out to Stroup, tackling and handling his responsibilities at the outside linebacker position.
"The kids were aggressive for the most part," the Tigers had a good scrimmage and can now begin the necessary work for Saturday's season opener.
"As coaches, we're never satisfied," he said. "The big thing is comparing us to last year, and we're better. I can definitely see that we're stronger than we were last year."
Academy opens the regular season against Bourgade Catholic (1-0) at noon Saturday at Northern Arizona University in Flagstaff. Bourgade defeated Odyssey in a Week 0 game Friday, 41-0.
"I told the kids we had a great scrimmage, but now we hit the field to get ready for Bourgade," Stroup said. "We're going in the right direction."