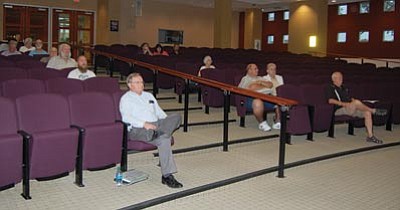 Originally Published: August 27, 2015 6 a.m.
KINGMAN - Thirty people attended a City Council-sponsored town hall meeting to discuss the proposed Kingman Crossing development Tuesday evening at the Mohave County Board of Supervisors auditorium - and more than a dozen of them were either elected officials or city employees.
By comparison, roughly 300 attended a public hearing on the ambitious development plan in May.
Had that many shown up Tuesday, they would have heard Councilwoman Carole Young confirm that warehouse retailer Costco has expressed interest in coming to Kingman, but only with the caveat that a fourth traffic interchange is constructed on Interstate 40 between Stockton Hill Road and Rattlesnake Wash.
Young made the surprise announcement in response to questions from resident and Kingman Crossing critic Doug Dickmeyer, who asked Mayor Richard Anderson to identify any companies that have expressed interest in Kingman.
Anderson said there are developers who have declared such a desire, but nondisclosure agreements, whether formal or informal, prevented him from naming them.
Dickmeyer's concern was that Kingman Crossing would not add to the city's sales tax revenue unless it brought in a type of business not already open in the city.
"It would have to be something Kingman needs and doesn't have," said Dickmeyer.
"Any developer knows where the leakages are in Kingman," said Anderson. He was referring to items residents routinely have to leave town for in order to purchase, such as clothes, shoes and electronics.
Young was part of a contingent of Kingman officials who earlier this year attended the International Council of Shopping Centers convention in Las Vegas. "I've talked to Costco outlet developers. They said they would be interested, but they said they need an interchange," she said. Young on Wednesday pointed out she spoke with developers who use Costco as an anchor to a shopping center, and not company representatives.
Dickmeyer said Costco would cause existing businesses to close. "Everything you can buy at Costco can be bought in Kingman," he said. "If Costco came, at least one [existing] grocery store would go out of business," he said.
"At this time, people in Kingman go to Bullhead City [to shop at] Sam's Club," replied Young. "Costco would bring people from Lake Havasu City and Bullhead City to Kingman."
Dickmeyer was not convinced, saying businesses would shut down, citing Staples as an example, and that employees at those stores would lose their jobs.
Young said she wanted assurances Kingman Crossing attracts the types of businesses that are needed and "not more hotels and fast food. We need a marketing plan," she said.
"All you're doing is moving the [sales] tax base from one area of town to another," said Dickmeyer. "It doesn't matter if you have 10 mattress stores. People are only going to buy one mattress."
Resident George Cook also opposes Kingman Crossing because the real estate agent who sold him his home several years ago promised the currently vacant publicly owned land that is central to the project would remain zoned as open space and parks.
Cook also took the Council to task for its recent decision to fund a feasibility study regarding the construction of an access road either over or under Interstate 40, and that another $1 million would be needed to construct the road.
"You said this would not take one penny from taxpayers," said Cook, who expressed doubts any developer would be willing to pay multiple millions of dollars for the construction of a traffic interchange.
Cook apparently misunderstood the Council's action, which was taken earlier this month. Anderson pointed out the $113,000 set aside for the study regards "desperately needed" access for residents in eastern Kingman and that it was "not necessarily related to Kingman Crossing."
The funds for the study have been part of the city's 5-year capital improvement plan for years, said Anderson. Eastern Avenue is the only road that connects Hualapai Mountain Road to Airway Avenue, which makes life difficult for both motorists and the city's emergency responders, who routinely face delays in getting to the scene of incidents.
Harley Pettit also criticized the plan and, like Cook, said the Council has already approved more funding for the project than taxpayers were ever supposed to provide.
"The fact is, the city of Kingman cannot afford a multi-million-dollar project," said Pettit. "This property is ours, not yours. The funds [are] ours, not yours." Pettit said the Council was violating its obligation to be sound stewards of taxpayer money.
"This is going to be a debacle," he said. "We have non-businesspeople making business decisions." He then said he wasn't against Kingman Crossing.
No other residents commented at the town hall meeting, which Councilman Mark Abram requested in response to Kingman Crossing opponents who have accused the Council of being less than honest in explaining the plan. Abram said his goal was to lend transparency to the project, what will happen moving forward, and what would happen if the Council ultimately takes no action on the ambitious project.
In a nutshell, the plan is to sell about 151 acres of public land at auction. The end goal is to find a developer who is willing to pony up multiple millions of dollars - estimates range from $25 million to $45 million - to build the traffic interchange and develop the land for retail purposes.
The next step is a public hearing to change the zoning to a hybrid commercial that would preclude certain businesses from opening in the area. That will occur on Sept. 8 when the city's Planning and Zoning Commission meets, followed by a second public hearing at the Oct. 20 City Council meeting.