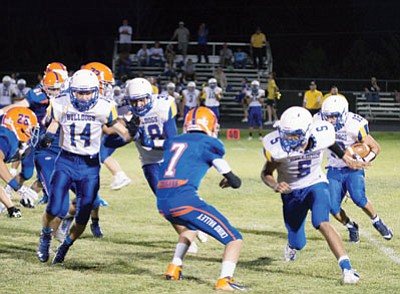 Originally Published: August 30, 2015 6 a.m.
KINGMAN - There won't be back-to-back winless seasons for Kingman High after the Bulldogs blanked Chino Valley Friday at CVHS, 15-0. After going 0-11 in 2014, Kingman is now 1-0 in 2015.
"I was so excited for those kids," said KHS football coach Greg Tonjes on Saturday. "They looked like 5-year-olds on Christmas. There were two kinds of kids - some were like those little kids opening gifts and the others were emotional."
The defense shined for Kingman in shutting out Chino Valley (0-1). The Bulldogs held the Cougars to 147 total yards, 75 rushing and 72 passing. The official count for tackles-for-loss were not available, but Kingman finished with more than 10 in the contest.
Chino Valley drove late on Kingman in the fourth quarter, but Garret Stephens picked off a Chino Valley pass attempt that sealed the game for Kingman. Stephens earlier saved a touchdown with a great stop inside the 20.
The Bulldogs' first score came as the first quarter wound down. Isiah Perez scampered for a 72-yard touchdown run, and Chandler Baca's point after attempt was good.
Kingman earlier had a touchdown called back on its first drive of the game because of a penalty. The Bulldogs had 14 penalties for 95 yards called against them.
Perez (5-7, 170) was the workhorse. He carried 24 times for 151 yards and the touchdown.
"Isiah wants the ball," Tonjes said. "He runs our guys over in practice, and that had me concerned about our run defense. But he's just a beast."
Kingman rushed for 193 yards, including just six yards for loss. The line had big issues last season, but the unit dominated Chino Valley.
"Their defensive line was larger than us," Tonjes said. "It was evident the work coach (Orin) Lancaster put in with them is paying off. They did a great job."
Kingman counted its blessings on its second score. The Bulldogs entered the red zone with a little more than two minutes remaining in the first half when quarterback Nate Sinclair ran up the middle. The ball was fumbled, but Baca scooped it up and raced in for the touchdown. Mason Wester ran in the two-point conversion, and the Bulldogs would never surrender the 15-0 lead.
The Bulldogs passed just seven times. Sinclair completed 2-of-6 for 42 yards, including a 35-yard strike to Stephens. Gilliman was 0-for-1.
Sinclair gained 39 yards on five carries.
"We are so diverse with what we want to do," Tonjes said. "We can become a team that runs 33 times in a game, or in a heartbeat, we could become a passing team."
The season is far from over, and the Bulldogs know they have plenty of work to do. But the change of emotion on the bus ride home was welcomed by the veterans.
"It was great," Tonjes said. "Most of these kids hadn't experienced this. The best part was seeing the excitement in the players."
Kingman hosts Flagstaff (1-0, D-III) in its home opener at 7 p.m. Friday. Flagstaff beat North Friday, 27-12.