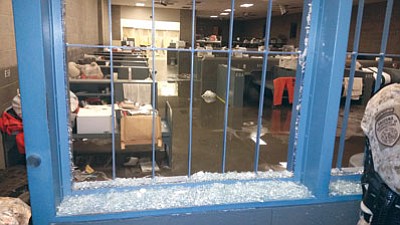 Originally Published: August 30, 2015 6 a.m.
KINGMAN - Systemic maltreatment of inmates and malignant indifference to employees and their training by top staff at the Arizona State Prison-Kingman led to destructive riots in early July.
So said the Arizona Department of Corrections in a damning indictment of private prison operator Management and Training Corporation released Wednesday.
Investigators conducted about 300 interviews with MTC employees and another 400 with inmates. Here are their most significant findings:
• The culture at the prison was one of "disorganization, disengagement, and disregard of ADOC policies and fundamental inmate management and security principles."
• MTC failed to conduct critical staff training and substantial dilution and compression of contractually mandated state training, and it withheld these failures and deficiencies from ADOC. In other words, the prison was severely understaffed, under-trained and overworked.
• MTC failed to promptly and effectively quell the riots, which allowed the inmate rampage and property destruction to continue for hours.
• The riot was sparked by MTC and conditions at the prison, not a beef among inmates, according to investigators, who wrote, "The targeted destruction of MTC property with the near absence of destruction of inmate personal property and the absence of inmate-on-inmate violence, strongly suggest the riots were more likely precipitated by inmate dissatisfaction with MTC's operation of the prison than by anger among the inmates themselves."
• More than one-third of MTC's performance deficiencies that were identified five years ago following the escape of three inmates from the same facility were identified again following the July riots. (Two of the three inmates who escaped in 2010 were involved in the murder of an Oklahoma couple that was traveling through New Mexico. The third inmate was arrested and later convicted after he was involved in a shootout with law enforcement officers in Colorado.)
Anatomy of a Prison Riot
A former employee in an interview with the Miner in the days following the riot said staff was aware inmates might go on a rampage. The ADOC report verifies the claim and it also indicates officials with ADOC and MTC seriously downplayed the incident to media following the riots.
Prior to the incidents, which were sparked at about 6:10 p.m. on July 1 in the minimum security Cerbat Unit, inmates warned staff that "a certain African-American inmate who had allegedly stolen cell phones and drugs from inmates of other races would be in danger if he was returned to the general population yard so soon after MTC had placed him into investigative detention," according to the report.
The opinion was that if he were not sufficiently punished, inmates of other races would seek retribution against him - and all other black inmates.
Despite those warnings, the man was returned to general population.
At about 5:45 p.m., staff watched as inmates grouped together by race and they neither activated the Incident Command System nor locked down the unit.
Twenty-five minutes later, a number of inmates attacked the black inmate who supposedly stole items from them - items they were not supposed to have in the first place. The Incident Command System was activated at this point and the inmate who was assaulted was escorted across the yard to the shift commander's office. Groups of inmates followed and warned them once again to remove the man from general population.
The shift commander's response was "inappropriate and unprofessional," according to several inmates, but investigators were unable to corroborate those statements. In any event, inmates in response assaulted five MTC employees.
The next day in the adjacent Hualapai Unit, a staff member used "excessive and unjustified force" in handling an inmate, which sparked a riot in Housing Unit 4 that soon spread to other housing units. The officer later took his own life at his Bullhead City home.
A woefully inept response
The report asserts MTC was unwilling or unable to comply with repeated directives from ADOC Director Charles Ryan and other officials to "retake control of the inmates and buildings," which allowed the riot to continue for another six to 10 hours.
Investigators determined MTC failed to effectively communicate and share intelligence, which allowed the endangered inmate to return to the general population yard; failed to follow fundamental inmate management and security principles by acting promptly when inmates began to group together by race, and the special response team's actions were ineffective "as a direct result of MTC's defective training model." The report also claims management of the Cerbat Unit was disorganized and even failed to prioritize physical accounting of MTC staff when the riot broke out, including both uniformed and civilian employees.
The prison's emergency response plan didn't even have contact information for local law enforcement and other officials in Golden Valley and Kingman - and didn't even know where the plan could be found.
A profound lack of leadership
MTC's approach to inmate management and correctional officers was described as disorganized and disengaged, with a culture of "casual indifference toward staff training."
ADOC investigators said they were surprised when so many staff members were "willing and eager" to express their concerns regarding MTC leadership.
The consistent message, said investigators, was that staff believe MTC did not value or support them. The overall workforce reported, "being exceptionally unhappy" with leadership.
The lack of training created two kinds of officers: Those who were "badge heavy" and abusive towards inmates and those who neither disciplined inmates nor enforced the rules. Both staff and inmates cited "many instances of unprofessionalism toward inmates."
Other grievances
Black and Mexican national inmates said MTC gave white inmates preferential job assignments. An initial statistical review indicated the assignments were racially balanced, but a more comprehensive study showed some degree of imbalance when comparing preferred jobs to less preferred jobs.
Some officers abused their authority, used profanity when addressing inmates and sometimes there were no officers at all in the Hualapai yard.
Some teachers were not qualified to teach classes to inmates and nearly 30 percent of staff had not completed required annual classroom training. Nearly 50 percent failed to complete required online training - and, stunningly, no supervisors completed mandatory training.
The bottom line, in reviewing MTC's performance since the deadly 2010 escape, ADOC found the company "seriously underperformed in staff training, staff communication with inmates, command staff communication with line staff, inmate population training, inmate controlled movement, inmate count procedures, inmate housing compliance, inmate identification card compliance, inmate programs, security device tracking, and weapons and munitions training.
The final word
Gov. Doug Ducey terminated the state's contract with MTC on Wednesday.
More than 1,200 inmates were moved to other facilities in and out of Arizona following the riots, emptying nearly a third of the 3,500 available beds at the two adjacent prisons. Most of those inmates were housed in the Hualapai Unit.
The current employees will maintain their jobs until another private prison operator is given the opportunity to take over for MTC, and it is believed they will be given the opportunity to keep those jobs pending the reapplication process.
Clearly, investigators don't condone inmates rioting, but they certainly don't blame them, either. Investigators concluded their report with this statement:
"As evidenced in all housing units, there was a lack of destruction to inmate personal property. The assessment team's collective experience dictates that inmates feuding with one another will take the opportunity in situations like this to destroy one another's property, living space, or attack one another. This did not occur.
"Rather, the violence and destruction was against prison personnel, common areas and security device and operations, specifically.
"Thus, the scene speaks to the insurrection more likely being a violent protest against the prison system, prison personnel, and/or conditions of confinement, not against one another."
Click for home delivery with comics, grocery deals, inserts, TV listings, coupons and more