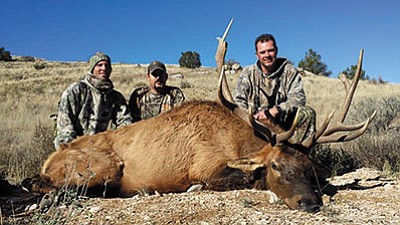 Originally Published: December 1, 2015 6 a.m.
Hunters often see other sportsmen as competitors, but there are times when true sportsmanship comes out and hunters work together for the common good.
Such was the case on a recent muzzleloader elk hunt in Unit 10.
There are a lot of local people in this story whose names you'll probably recognize.
They include Keith Walker, Rink Gordon, Fred Moore, Eric Berg, Chad Burge and Everett Burge.
You also see how Socki Kogianes, Ryan Chan and Jay Chan played an important role in the ultimate success of the hunt for Burge and Walker.
Keith Walker is a firefighter for the city of Kingman. He is also pursuing a nursing degree through Mohave Community College. He got lucky this year when he drew his second bull elk, this one in Unit 10. Due to his schedule, he would have just three days to hunt, even though the season was a week long.
Chad Burge also drew a tag, but he had drawn several bull tags before and harvested some very nice bulls in nearby Unit 18A. He would hunt with local guide Eric Berg.
Burge and Walker and their friends all camped together in the north part of the unit.
Also camping there was Ryan Chan and Socki Kogianes, who also had drawn a pair of the 150 tags that were offered by the Arizona Game and Fish Department.
On Thursday evening prior to the hunt, Ryan Chan found two nice bulls that he thought he and Socki would pursue on opening day.
Walker and Burge and their friends also wanted to hunt in this same area, but when they found out that Chan was already there, and had bedded two mature bulls, they opted not to go there on opening day.
On opening day, Ryan and Socki got onto a huge group of elk and ultimately both took nice bulls out of the group.
Walker didn't have much luck on Friday, and when he, Moore and Gordon came to Chan's camp Friday night and saw their bulls, they decided that they would go back and hunt in the area where Chan had been on Thursday.
When Burge and Berg returned to camp Friday evening, Walker, Gordon and Moore learned that he got a shot, but missed.
In true sportsmen spirit, Ryan, Jay, and Kogianes offered to help the other hunters the next day.
Saturday morning the hunters were out bright and early when Moore spotted a group of bulls on a faraway hillside. There appeared to be at least five and maybe as many as seven bulls in the group.
A plan was devised and the stalk was on, with the hunters split into two groups.
The stalk by Walker was productive and he got within a couple of hundred yards and took a shot. A miss.
Shortly thereafter it was Burge's turn to try a shot, but he too missed.
The bulls fled, but the two groups of hunters were determined to stay on them no matter how far they ran. They would end up hiking over 6 miles while following the herd of bulls.
Walker and Burge finally got close enough to shoot, and the others watched as a shot went off and the 7 x 6 bull went down. But he didn't stay down for long, and then Walker tried a shot but missed. The bull rolled down the hillside but managed to get his legs under him and took off, splitting off from the rest of the group.
The morning ended with the bull not found. Later that day, though, the hunters found the bachelor band of four bulls, but they couldn't locate the injured bull.
Walker got into position on the group and he fired a shot from 205 yards. It was a hit, but the bull didn't go down. Another shot rang out and they found out that Chad had shot, thinking it was his injured bull.
Turns out the shot missed the mark and it was a good thing, as it was not the same bull he had hit previously.
Then things took a turn for the better when they heard the voice of Ryan Chan on their radios. Seems that Chan, his father Jay and Socki had been watching the action from a nearby hill, and had seen where the bulls had gone.
Walker and Gordon headed out after their bull and soon caught up with him.
Walker took the shot and everyone thought the bull was down for good - but he wasn't. He was up and moving and it was getting dark fast. Walker had trouble with the gun's safety, so he didn't get off another shot.
It was now dark and they would just have to wait until morning to find and finish off this bull.
The next morning all of the hunters got together and made a plan that would ultimately lead to the recovery of both of the bulls. But it wasn't going to be easy.
Walker, Jay Chan, Rink and Moore went after the bull while Eric and Chad searched for their bull.
Later, shots were heard and the group learned that Eric had glassed up Chad's bull. They found he had expired during the night and they hadn't fired the shots. Was there someone else out there?
As happy as they were, there was a lot more work to do.
Jay and Fred found the tracks of the bull Walker shot, but the bull got into the rocks and the tracks were lost. Gordon and Walker headed up a draw and Walker found the bull under a juniper tree. It appeared to be dead.
As they walked up to the bull, it suddenly jumped up and off it went. Walker tried an offhand shot but missed.
He quickly reloaded and set out in pursuit of the bull.
They spotted him a short time later, again bedded under a juniper tree. Walker tried another shot and hit just high, but the bull stayed put.
After reloading, and with Jay talking him through the shooting sequence, Walker fired and the bull laid his head down, and it was over.
Burge ended up with a good 7x6, while Walker's bull had been a good-size 6X6, but during the rut had broken off several of his points.
It had been a grind, and there were many ups and downs on the hunt. Walker learned that he needed to do a lot of practicing before hunting a bull with a borrowed muzzleloader.
Lady Luck had smiled on Burge when they found and recovered his bull.
In the end, with the assistance of some other hunters and friends, the two filled their tags. They had hiked over 15 miles in three days, but it had been worth it.