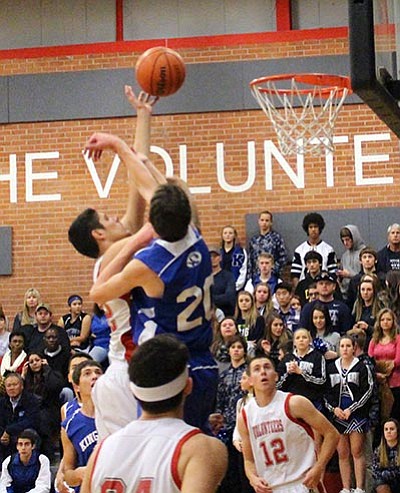 Originally Published: December 2, 2015 6:02 a.m.
KINGMAN - In the third consecutive game to start the season, Lee Williams held its opponent to 40 points or less as the Volunteers toppled Kingman Academy Monday at LWHS, 49-40. It was also the first time the Academy lost to either Kingman or Lee Williams since joining the AIA in 2013.
Lee Williams' (3-0) blueprint has been its defense. The Vols opened the season holding Northland Prep to 38 points and held Kingman to 34 on Nov. 24.
"This early in the season I can't control the offense, but I can control the defense," said LWHS boys basketball coach Ray Smith. "That's what we work on."
Academy (1-1) jumped out to an early first quarter lead, but Lee Williams rallied and trailed by only one at the quarter's end, 12-11. The Vols took the lead in the second and never trailed again. Lee Williams led at the half, 25-18. It had been a 10-point gap but Academy's P.J. Homer hit a buzzer-beating 3-pointer from about 25 feet. Homer finished with seven points.
The Tigers opened the second half with five consecutive points to narrow the lead to 25-23 and then tied it at 29-29 and 31-31. However, they never did get over the hump.
Lawrence Campbell scored just three points for Lee Williams, but he was a stabilizing force for the Vols in the third quarter when the Tigers made their move.
"Lawrence is a street baller," Smith said. "He's that guy you need who has the stuff nobody else has."
When Campbell was in charge of the flow for Lee Williams, he focused on what his coach wanted from the team.
"Coach wanted to keep the ball moving and only take open layups," Campbell said. "We didn't want any dumb shots."
The junior guard said that Academy's hyper man-to-man defense may have worked against the Tigers.
"They were pressing us pretty good on man," Campbell said. "We just had to bring a screen up and we were wide (open). We could take it in or pass it out."
Giancarlo Narvarte scored a game-high 21 points for Lee Williams, including two put-back baskets off of offensive rebounds. Braxton Burgess added nine points, Nate Cottrell had eight, and Russell Cottrell contributed three. Chaise Shropshire and Marco Narvarte each came up with two, and Kenyon Rowley finished with one.
"I think we're playing better at the beginning and end of quarters because of our depth," Smith said. "We couldn't play defense at the end of quarters last year because we were dead."
Jeffry Chinyere led the Academy with eight points. Kannon Butler added seven, Garen Steed and Will Herbine each had six, and Cade Martin contributed five. Logan Day finished with one.
"My kids didn't execute," said KAHS boys basketball coach David Devincenzi. "Lee Williams played a decent game, but neither one of us played a good game. They just executed a little bit better than we did."
Lee Williams was at Lake Havasu (1-0) Tuesday. Results were not available by deadline. The Vols next play at 1 p.m. Thursday at the Sedona Red Rock Hoops Classic.
Academy hosts Mohave (0-1) at 7 p.m. today.