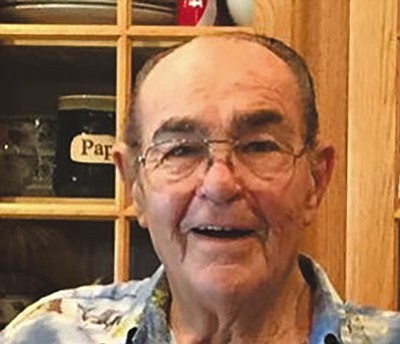 Originally Published: December 3, 2015 6 a.m.
A longtime resident of Kingman, Verne Gillman passed away peacefully on Nov. 20, 2015, at the age of 80. Verne was born in Chicago, Ill., on March 31, 1935, and was married to the love of his life, Pat, for 59 years. She passed away in 2012.
Verne served in the U.S. Navy aboard the USS Saint Paul. While stationed in Bremerton, Wash., he met Pat and they moved to SoCal in 1953 to begin their family. Throughout the years, Verne was a master of many trades and in the early 1970s began working as a truck driver for TFI Building Materials, where he worked his way up to vice president of the company. Verne and Pat spent 30-plus years living the California dream, playing at the beach, taking family vacations, weekend camping and going to the drags and car shows.
Everyone who knew Verne knew his love of cars and he had some nice rides. There was nothing cooler than being dropped off at school in a '64 Chevy Impala low-rider with a custom paint job, blasting Creedence on the 8-track. Man those were the days.
Verne and Pat moved to Kingman in 1982 and opened Discount Plumbing and Electric on Arizona Street. They were very successful and spent the next 30-plus years paying it forward by helping many people in the Kingman community.
Verne is survived by his children who will miss him dearly: Deborah Murchison (Frank), Bonnie Ridl, David Gillman (Carla), and Toni Alexander (Glenn), all of Kingman. He is also survived by his brother John Gillman (Gwen) of Kingman and sister Sharon Ciolkosz (Frank) of Fresno, Calif. He was very proud of his nine grandchildren, fourteen great-grandchildren and numerous nieces and nephews.
A visitation will be held from noon to 2 p.m. on Saturday Dec. 12, 2015, at Sutton Memorial Funeral home, 1701 Sycamore Ave.