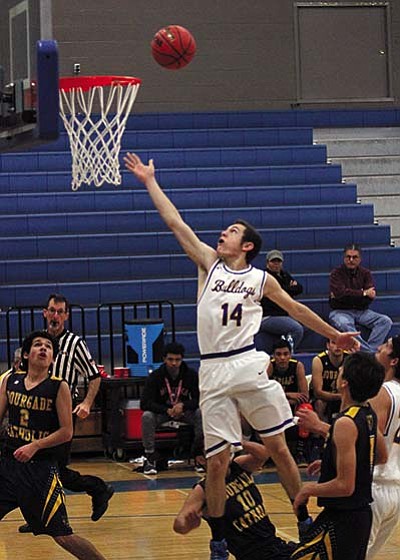 Originally Published: December 6, 2015 6 a.m.
KINGMAN - There won't be any style points handed out, but the Kingman Bulldogs did get their second consecutive win when they took down Bourgade Catholic Thursday at KHS, 49-35.
"I'll go undefeated winning ugly rather than not winning any games but losing pretty," said KHS coach Nick Juby. "We gutted it out and played tough."
According to the eye tests, Kingman (2-2) was the superior looking team. The Bulldogs clearly didn't have their 'A' game, and Bourgade (0-1) hung around until the end of the third quarter.
"It's hard to win without your 'A' game, that's for sure," said junior Jordan Dupee, who led Kingman with 17 points. "But we run these plays over and over in practice and as long as we execute the plays, we're getting wide-open shots."
Kingman struggled for separation from the Golden Eagles and held a slim 10-9 lead at the end of the first quarter. It cleared up a bit for the Bulldogs and they led by eight at the half, 27-19. Juby suspected his squad may have taken Bourgade too casually.
"It's a good learning experience about not taking your opponent lightly, respecting your opponent, and taking care of your business," the coach said. "The pressure of beating a team you know you're better than got to us a little, especially in the third quarter."
Bourgade opened the third quarter on a 6-2 run that narrowed the gap, 29-25. Kingman called a timeout with 6-1/2 minutes left and finished on a 5-0 run to lead at the end of the third, 34-25.
Anthony Pinto scored 15 points for Kingman and Tanner Best added 11 as the pair held their own in the paint. Bourgade's Matt Guida had a game-high 18.
Dupee hit a shot from eight feet away and Elijah Howery then made his only basket of the game to extend the run to 9-0 into the fourth quarter and grow the lead to 38-25 for the Bulldogs with seven minutes left. Kingman maintained control the rest of the way and even built up a 20-point difference at one point, 49-29.
Frankie Layna and Tobias Bagby each contributed two. Bagby hit a no-look, six-footer with his back to the basket at the buzzer to end the first quarter.
"We did a good job boarding up," Juby said. "When you hold a team down to 35 points, you're going to win a lot of games."
Kingman next plays at Kingman Academy (2-1) at 7 p.m. Monday. Academy defeated the Bulldogs in the season opener for both teams Nov. 23, 63-52. The Tigers are looking to maintain their perfect record (8-0) against Kingman.
"We're looking to get some revenge at them," Dupee said. "We have to come out with our heads strong and look to go 3-2."