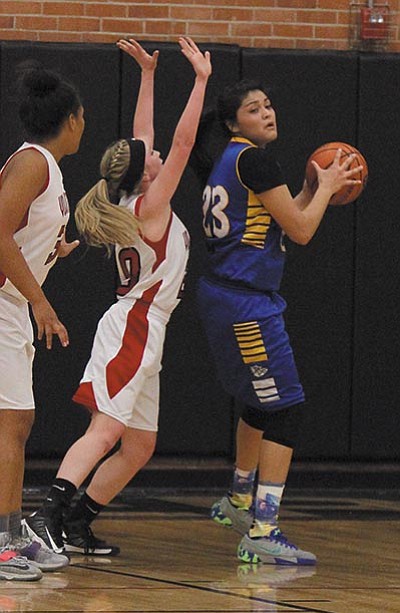 Originally Published: December 6, 2015 5:58 a.m.
KINGMAN - The Kingman High Lady Bulldogs basketball team went 2-0 Friday in the River Valley Shootout.
Kingman blew by El Monte, Calif., Mountain View, 71-23. Desirae Gonzalez had a double-double with 36 points and 10 rebounds. Kim Carroll added 13 points and had eight steals and six rebounds.
The Lady Bulldogs also beat Needles, 65-47. Gonzalez had another double-double with 39 points, including five 3-pointers, and 16 rebounds. Makenna Taylor scored 10 points and had five assists.
Saturday's results from the tournament were not available at deadline.
Lee Williams posted a 1-1 mark at the shootout. The Lady Vols took care of Parker, 51-28. Sadie Snay finished with 22 points, and Jackie Millim added nine.
Lee Williams suffered a huge loss to Chinle, 84-34. Madi Arave and Madi McGlathery each finished with 10 for the Lady Vols.
Kingman Academy lost to Mohave Accelerated in overtime at the tournament, 42-38.
The teams return to regular-season action this week. Kingman and Kingman Academy match up at 7 p.m. at KHS. Lee Williams next plays at Glendale Deer Valley at 7 p.m. Tuesday.
WRESTLING
At Flagstaff, Lee Williams fell to Gila Ridge at the Peaks Invitational Friday, 67-11. Nic Verville at 132 pounds earned five points for the Volunteers by with a technical fall win over Frank Widman, 20-4. Tiberius Williams (182) scored the other six when he pinned Christopher Valdez.
Lee Williams went 2-1 at its four-team round-robin home meet Wednesday. The Vols beat Chinle, 48-30, and then beat Hopi by criteria after the squads tied, 42-42. Division III No. 3-ranked Chino Valley handled Lee Williams, 68-8.
The Volunteers next grapple at River Valley at 3 p.m. Wednesday.