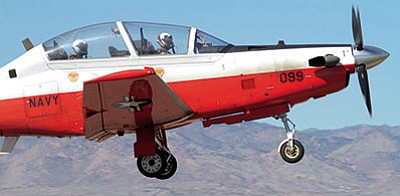 Originally Published: December 9, 2015 6 a.m.
KINGMAN - The U.S. Navy has announced that it will again be training at Kingman and Laughlin-Bullhead City airports beginning in early January.
The training operations will last for about three months with Landmark
Aviation providing facilities and logistics support for Navy personnel.
About 150 Naval officers will cycle through the airport during training, flying Beechcraft T-6B turbo-prop trainer aircraft.
"The Navy is choosing our airport primarily because they required good weather for this particular stage of pilot training," said Jeremy Keating, director of Laughlin-Bullhead International Airport.
Kingman Airport is expected to see an increase in military training activity.
Keating said the airport does not charge the military for use of the airfield, and that it's a small boost to the local economy as pilots and mechanics will be living and spending money in Bullhead City.
"I think we should feel very fortunate that the military has chosen our airport to help train and prepare our Navy's future pilots," he said.
For questions about military activity, call 361-961-3666.