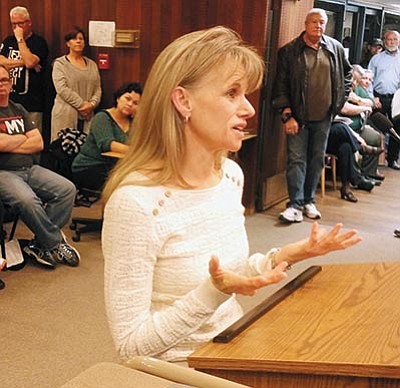 Originally Published: December 10, 2015 6:02 a.m.
KINGMAN - If the City Council follows the Planning and Zoning Commission's lead, members of the Central Christian Church have found a new home in the historic Central Commercial Building at Fourth and Beale streets.
While most downtown business owners opposed the church opening due to parking concerns and a fear that churchgoers and downtown bar patrons would not mix well, it was a controversial federal law that turned things in the church's favor.
The Religious Land Use and Institutionalized Persons Act passed Congress by unanimous consent in 2000. While the law addresses the right of prisoners to worship, it also addresses zoning and land use by prohibiting cities from imposing a "substantial burden" on a person's right to worship unless the government can demonstrate a compelling interest in doing so.
When the church's request for a conditional use permit was first heard in November, most business owners cited a lack of parking downtown as their chief objection. Church officials at a heavily attended meeting on Tuesday told planning commissioners they have agreements with the owners of nearby private parking lots - such as Wells Fargo Bank, which is across the street, Beale Celebrations and a nearby pawn shop.
Those officials also noted traffic is fairly light on Sunday mornings, when between 100 and 200 congregants will attend a service at 9 a.m., and another 100 to 200 at 11:30 a.m. They said they counted dozens of empty on-street parking spaces within 300 feet of the church and 82 off-street spaces, for a total of 144.
Functions during the week, they said, include small group Bible study and meetings with church staff. Participants in Celebrate Recovery will also be at the church during weekdays and there will be occasional large group events, such as weddings and funerals, which average about 100 people.
Office hours, another concern from business owners, will be 8 a.m. to 5 p.m. Monday through Friday.
They also said church members will frequent downtown businesses for coffee, food and to watch football. The church has worshipped at nearby Lee Williams High School for the past couple of years. Downtown business owners have said they haven't seen an uptick in business on Sundays.
Nicholas Bodine, a member of the church's global team, said the local Central Christian Church is a Kingman church, not a Las Vegas church. The 20,000-member Central Christian Church in Henderson, Nev., he said, is the original campus, but there's no way the church in Kingman will grow that large within the five-year timespan of its downtown lease.
"We would not complain if we had that kind of church revival," he said, in noting the church hopes to have land and a building of its own by the time the lease expires.
Carol Ott, owner of the Central Commercial Building, which houses Redneck's Southern Pit Barbecue and the Wine Cellar, among other businesses, said the church was a good fit.
"It's a gorgeous building," she said. "We need one more to fill a big space."
Nearly 20 residents, both church members and business owners or their employees, spoke for or against the project, but at the end of the day, the only thing that mattered to a majority of planning commissioners was the law.
Commission Vice Chairman Mike Blair and Commissioner Vickie Kress opposed granting the church a conditional use permit, saying it was the wrong place for a church and could derail a resurgent downtown from progressing.
Kress also said she didn't want a church to occupy the "cornerstone" of downtown since churches don't contribute to the community's tax base.
"We need a business that's more compatible with downtown," she said.
Blair said the federal law "probably" left commission members with no option, and while he said he is a Christian, he doesn't think "religion should be shoved down our throats."
Commission Chair Alan Mossberg and Commissioners Gene Kirkham and Tyler Angle, who participated electronically, agreed it was likely the religious land use law took precedence, and none of them had an appetite to expose the city to litigation.
"Regardless of my personal opinion," said Angle, "I think we have to allow it."
Mossberg said he researched the law and lawsuits other cities have been saddled with by religious organizations.
"It wasn't a good outcome," he said. "The burden shifts to the city to show things were not equal. I intend to protect the citizens of Kingman."
Mossberg, Kirkham and Angle voted to approve the conditional use permit. Kress and Blair voted against the measure. The question now goes to the City Council for final approval.