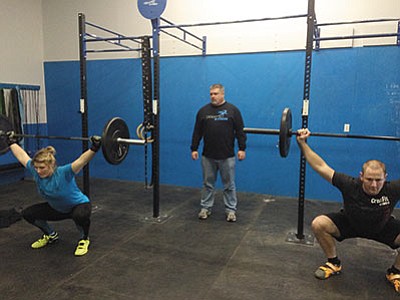 Originally Published: December 11, 2015 6:02 a.m.
After one year in business, Desert Sky Fitness has outgrown its space on Lomita Street and is relocating to 2364 Northern Ave., taking the empty building that formerly housed Rough Stock Feed.
"We wanted to be on the main road (Northern) and we needed more room for members," Desert Sky Fitness owner Ralph Field said.
He now has nearly 4,000 square feet of space, compared with 1,100 square feet at his previous location.
He's in the process of putting in wood flooring for Zumba classes, a dance fitness program that's stormed the exercise world.
"The ladies like it," Field said. "With Zumba, we should jump up to 80 members [from 50 currently]."
Field has invested more than $50,000 in Desert Sky Fitness, including exercise equipment and facilities. He put in a Kids Korner playroom for children while their parents work out.
Mohave County Development Services made the change of business use easy for Field.
"They're not trying to give us any grief. They want growth, especially in this area," he said.
Desert Sky Fitness filled a void in northern Kingman when Energie Rx Gym closed about a year ago.
Family Dollar
Family Dollar is closing its store at 3155 Stockton Hill Road in the Kingman Square shopping center. Family Dollar was acquired by Dollar Tree Inc. in July and the Federal Trade Commission identified 330 stores for divestiture as part of the merger.
The stores were sold to Sycamore Partners, which planned to transform them into its own dollar store chain called Dollar Express. It's unclear whether the Kingman store will be one of those.
Family Dollar built a new store that opened earlier this year on John L Avenue at Route 66, and still has a store at 2930 Northern Ave., as well as one in Golden Valley.
Family Dollar on Stockton Hill Road was much smaller than other stores and had to compete with the 99 Cent Only store across the street. It's the third business to close in Kingman Square, following Radio Shack and the Hallmark store.
Home prices
The Kingman Golden Valley Association of Realtors reported 81 home sales in November at an average price of $114,259, an increase of 8.5 percent from the same month a year ago.
Total sales volume for November was $9.3 million, compared with $8.1 million a year ago.
Realtors took 125 new listings, and there were 114 pending listings, or homes under contract waiting to close escrow.
BBQ expansion
Redneck's Southern Pit BBQ is expanding into space formerly occupied by Beale Street Brews in the Central Commercial Building, opening Floyd & Co. Wood Fired Pizza sometime in early 2016.
The family-owned business is also changing its name to encompass the Floyd family name.
Diesel garage
The Mohave County Board of Supervisors approved a zoning use permit to allow for a diesel repair and maintenance shop in the name of Schaffer Enterprises on Oatman Road between Shinarump Drive and McConnico Road in Golden Valley.
The property was conditionally approved for heavy manufacturing zoning in 1997. Surrounding land uses consist of vacant land, commercial and single-family residences.
Realtor retreat
Cathy Ott, a Realtor with Century 21 Highland Realty in Kingman, attended a retreat for the company's top agents Oct. 6-8 in San Diego.
Ott was able to network with Century 21 agents from around the country and attend educational classes during the three-day conference held at Hotel Del Coronado.
"She is making a real difference in the lives of so many here in Kingman and we couldn't be more proud," said Chuck Casson, owner of Century 21 Highland Realty.
Census survey
Kingman's population grew from 28,068 in 2010 to an estimated 28,381 in 2014, according to the U.S. Census Bureau's American Community Survey released Dec. 3.
Arizona's housing unit rankings from the survey:
• No. 29 for median monthly housing cost for owner-occupied units with a mortgage at $1,273. New Jersey was No. 1 at $2,313.
• No. 20 for median monthly cost for renter-occupied housing units at $916. Hawaii was No. 1 at $1,448.
• No. 23 for median housing value of owner-occupied units at $176,700. Hawaii was No. 1 at $528,000.
• No. 44 for percent of owner-occupied housing units at 61.1 percent. West Virginia was No. 1 at 72.2 percent.
• No. 12 for percent of housing units that are mobile homes at 10.4 percent. South Carolina was No. 1 at 16.6 percent.