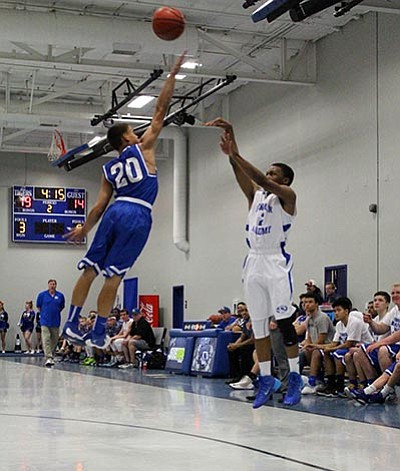 Originally Published: December 13, 2015 6 a.m.
KINGMAN - After losing a nail-biter in double overtime Wednesday at Glendale, 78-73, the wounds didn't heal for Kingman Academy in the first two games at the Boys NGS Tournament Thursday and Friday in Page.
Academy (3-4 overall, 3-2 Division III) fell to St. George, Utah, Pine View Thursday, 55-40, and then lost to host Page on Friday, 59-45. The Tigers faced Cortez, Colo., Montezuma on Saturday. Results were not available by deadline.
Jeffry Chinyere led the Academy with 10 points in the loss to Pine View.
After trailing by six at halftime to Glendale, 32-26, Academy rallied in the third quarter to pull within one of the Cardinals, 44-43. The Tigers outscored Glendale (3-3 D-III) in the fourth, 18-17, to force overtime with the game knotted up, 61-61.
Cade Martin led the Academy with 25 points. Martin landed six 3-pointers, including one in the second OT. Will Herbine and Chinyere each scored 14, and P.J. Homer contributed 12.
Both teams added five points in the first OT, but Glendale outscored the Academy 12-7 in double-overtime to pull out the win.
Academy next plays at Lake Havasu (6-2) in its return to the regular season at 5:30 p.m. Thursday.