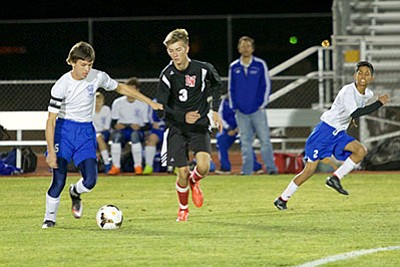 Originally Published: December 13, 2015 5:58 a.m.
KINGMAN - Despite an early tournament loss to Lake Havasu on Thursday, 2-1, the Lee Williams boys soccer team rebounded to win the 2015 Mohave County Boys Soccer Tournament that came to end Saturday.
The Volunteers beat a surprising River Valley squad in the final, 2-1. Lee Williams got goals from Aiden Cordes and Michael Mendola.
The Vols earned their way into the championship match after they shut out Parker in the semifinals earlier on Saturday, 3-0.
Kingman went 3-1 and took third place at the tournament. The Bulldogs defeated Bullhead City MALC (4-1), River Valley (2-0) and Parker (5-2) in pool play. Kingman met up with River Valley in the semifinals but fell, 1-0.
"We played with a lot of heart, but we just couldn't find the back of the net," said KHS boys soccer coach Tony Schlosser. "Overall great play by our team this weekend in the tournament. I couldn't be happier with our outcome."
Chandler Baca found the net six times for Kingman in the tournament. Alonzo Garcia added two goals and two assists, and Derek Brown had one goal and three assists. Keeper Kaegan Rivedale had 26 saves, including 13 when the Bulldogs beat River Valley.
The teams return to action in the regular season when Lee Williams (1-2-1 Division IV) hosts MALC (1-2) in a Section I match at 6 p.m. Monday, and Kingman (1-2) plays MALC at 4 p.m. Tuesdayw in a section contest.
GIRLS SOCCER
Both Kingman and Lee Williams were 0-1-1 at the Mohave County Girls Soccer Tournament before the completion of the tournament on Saturday. Complete results were not available by deadline.
The Lady Bulldogs and Lady Vols met in the tournament's first match on Friday and fought to a 2-2 tie. Kingman then lost to River Valley, 6-0, and Lee Williams fell to Lake Havasu, 4-1.
Kingman (0-4 D-IV) hosts Odyssey (0-2) at 6 p.m. Tuesday, and Lee Williams next plays at Trivium (4-0, 1-0 Section I) at 6 p.m. Tuesday.