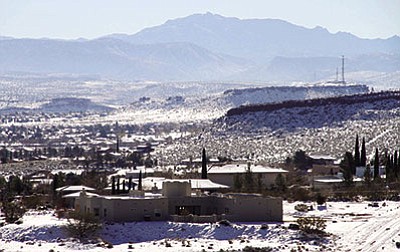 Originally Published: December 14, 2015 6 a.m.
KINGMAN - The National Weather Service has forecast a strong El Nino for the winter, resulting in high probability for rainfall above normal in much of Arizona, California and Southern Nevada.
Mohave County is preparing for potential flooding and working with FEMA and NOAA on an emergency response plan, said Nicholas Hont, director of Development Services.
"We are well aware of the potential for this winter," he said Friday.
A strong El Nino can cause massive flooding, evacuations and power outages, with accompanying high winds knocking down trees and toppling weak structures.
In 1997-98, El Nino claimed 36 lives and caused $1.2 billion in economic losses, including homes and businesses damaged or destroyed by storms.
The county tracks rainfall and water flow on a 24-hour basis through its Flood Control District.
"So we actually have a satellite here, believe it or not, and 200 sensors throughout the county, so we provide data to them," Hont said. "We actually measure rainfall through our gauges and monitor stream flows. When it reaches a certain level, it has an automatic alarm that calls us."
Being predominantly desert, Arizona has a lower risk of river flooding than states in the Midwest or East Coast. However, because of natural conditions, Arizona is highly susceptible to flash flooding. The state also faces flood risks from rapid snow-melt in mountainous areas.
FEMA task force
The Federal Emergency Management Agency formed a task force and released a response plan Wednesday for the region that uses a "whole community" approach to emergency management.
The plan aligns "actionable decision points" to gather critical information needed to determine hazard levels on lives, public health and safety, property and infrastructure.
Objectives of the FEMA task force are:
• Establish actionable processes and procedures to identify the location, potential impact and probability of occurrence.
• Identify key populations at risk, crucial facilities and resources.
• Identify gaps in core capabilities needed to overcome the threat.
• Develop key messages to motivate partners to prepare and act.
There are different levels of emergencies, Hont said. Working with the National Weather Service, the county issues flood watches and alerts and calls people into the office. If the situation worsens, the emergency management division sets up an operations center.
"So we keep an eye out 24 hours and we're on the phone. We call the sheriff's office ahead of time to close roads and then we respond to repairs. We have contractors on call," the Development Services director said. "We try to respond right away. We are the first responders."
With some 1,500 miles of dirt roads, Mohave County is exposed to a lot of potential property damage, Hont noted.
Certain areas of the county are mapped for high flood risks, such as Golden Valley where people have died in the Sacramento Wash. Many road crossings are in low-lying dips with no bridge.
The Flood Control District, in partnership with FEMA, released new flood insurance rate maps for Mohave County on Dec. 2. The maps help identify flood risks and are used for flood insurance, land use and development decisions.
The new maps revise and update information on the existence and severity of flood hazards based on ground elevation models, decades of rainfall and storm gauge information, and topographic data.
Heating up
El Nino is characterized by abnormally warm temperatures around the equator in the Pacific Ocean, which can result in a significant increase in rainfall for the southwestern United States.
As a "worst-case scenario," scientists from the National Oceanic and Atmospheric Administration (NOAA) suggested using the 1997-98 El Nino, the strongest on record, to build their planning assumptions.
California had its wettest February on record that year, with Santa Barbara receiving an incredible 21.7 inches during the month, smashing the old record of 17.3 inches in February 1962.
Dan Berc, meteorologist with the National Weather Service in Las Vegas, said he's confident this El Nino will be among the top three since NWS started keeping records in 1950.
The three-month average temperature around the equator is close to 2 degrees Celsius above normal, and anything 1.5 degrees above normal portends a strong El Nino, Berc said.
"What El Nino does is actually shift the jet stream," he said. "The reason we get more precipitation is we get more storms. We've seen it already, but it hasn't gotten to Las Vegas or Kingman. Watch out in the coming months."
Historically, strong El Nino episodes have brought increased frequency of above-normal precipitation in Arizona from December through March. For this period, rainfall totals have averaged about 140 percent above normal in the northern part of the state and up to 180 percent of normal in the southern part.
Homeowner tips
Randy Petro, chief claims officer for Mercury Insurance, said the company saw a 39 percent increase in homeowners' claims for storm damage from the 1997 El Nino.
He advises homeowners to start preparing for the weather now.
"The amount of reported damage and repair costs doubled for Mercury policyholders during the winter of 1997, with the bulk of the damage from February storms," Petro said. "The weather may not look threatening at the moment, but the predicted El Nino is expected to continue into 2016 and when it comes to preparing for severe storms, it's best not to wait until the last minute."
Petro suggests reviewing homeowner and auto insurance policies to know the type of damage covered, and to purchase flood insurance.
Other tips:
• Ensure that windows and doors are properly sealed, and that the glass doesn't have chips or cracks, as these can be sources for leaks and may shatter during high winds.
• Remove trees and branches that are dead or dying from your yard to reduce chances of them falling on your home or car, or neighboring property. Even it trees are strong and healthy, it's still a good idea to trim them back away from your home.
• Inspect your roof for leaks and the foundation for cracks and leaks to prevent unseen water damage.