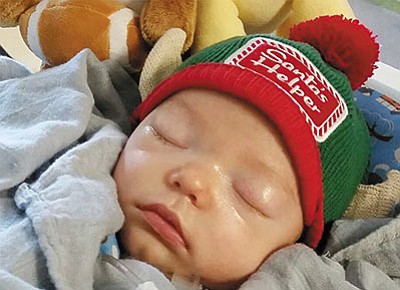 Originally Published: December 15, 2015 2:36 p.m.
KINGMAN - Two weeks after he quit breathing in the middle of a nap, Knox Stine remains at Sunrise Children's Hospital in Las Vegas, where the two-month-old Kingman baby was flown after he quit breathing on the night of Nov. 30.
Doctors don't think the boy will ever emerge from the persistent vegetative state he has been in since that terrifying night, but Knox's parents refuse to let them disconnect him from life support.
They are praying for a miracle - they and thousands of others as the story gains a foothold in the national news - but are prepared to bring Knox home and care for him if he never awakens.
Carl Stine was watching Monday Night Football while Knox slept in the bedroom Carl shares with his wife, Mindi. Their other children, Daphney, who will turn 6 at the end of the month, Tessa, 4, and Keegan, who turns three on Tuesday, were asleep.
Mindi was out shopping when Carl got up to check on Knox at about 7:30. The baby was stirring and Carl rubbed his back until he drifted off again. Mindi texted him to say she was headed home about 45 minutes later.
"I went to check on Knox, and he wasn't breathing," said Carl with the practiced cadence of a man who has told the story countless times over the past 14 days. Certified to perform CPR on children through his work at a local medical clinic, Carl put Knox on the kitchen counter. At first, he tried mouth-to-mouth resuscitation, but remembered the protocol was recently abandoned in favor of chest compressions. Carl continued to compress his son's tiny chest for about seven or eight minutes, until Kingman Fire firefighter-paramedics arrived at his Heather Avenue home and took over.
The decision was made to rush Knox to Kingman Regional Medical Center, where doctors immediately ordered the baby flown to Las Vegas.
Carl and Mindi went to the hospital while Joe Gilbert, their pastor and neighbor, watched the older children. Knox has not emerged from sleep. A tracheotomy in his throat holds the respirator. A feeding tube was inserted.
Doctors don't know what happened to Knox, but all the evidence points to Sudden Infant Death Syndrome. Knox would have died had Carl not acted quickly in performing CPR.
"The doctors said he's not getting better," said Carl. "But they also said they're not 100 percent certain of anything."
Knox has suffered brain damage, but how much is not known. And even if the baby never wakes up again, they intend to care for him.
"Some parts of his brain are just now getting back on board, or not at all," said Carl.
"We're people of faith," said Carl. "We believe God will help him if he wants to."
The family's plight went national after a 4-year-old boy who never met Knox, Prestyn Barnette, was videotaped asking Santa for a Christmas miracle. The video spread across social media and the prayers started coming in by the thousands. The video also grabbed the attention of the national press.
Mindi was on the phone with "Good Morning, America" when the Miner contacted Carl at Sunrise Hospital Wednesday afternoon. NBC and CBS also called the family and are awaiting interviews.
The family's decision has also sparked a fairly strong debate over the sanctity of life, and whether an infant in a persistent vegetative state is still a living being. For Carl and Mindi, there is no debate.
"We chose that route," he said. "We had the option to withdraw life support, or to help him as much as we can, no matter what kind of life he's going to have."
And while Carl and Mindi have an absolute faith in Jesus Christ, they also believe in the power of modern medicine. As far as they are concerned, the two are interconnected.
"We think with medicine and technology we can believe things will get better. God gave us our faith and our medicine and technology."
There have been small miracles. Knox for the first time on Monday initiated breaths without the respirator, though breathing remains difficult for the infant.
Carl and Mindi hope to bring Knox home in two to three weeks, but much depends on Knox. His tracheotomy must heal and the Stines must learn how to care for a baby who might remain in a coma for the rest of his life.
"The biggest issue right now is regulating his temperature. It's been up and down, but he's doing much better now."
Carl said he and Mindi are emotionally and mentally prepared to dedicate themselves to Knox, who will require 24-hour care. They have to learn to maintain his feeding tube and catheter.
"We have a lot to learn," said Carl.
Their faith has kept them grounded. Their fellow worshippers at Cornerstone Baptist Church in Kingman have been a source of strength, as have the members of many other churches.
"God has given us a great peace," he said. "I would ask, please keep praying for Knox. There's been so much support from many different people and groups. People are sending food and have been so kind. We've been so blessed."
As for their commitment to Knox, Carl said, "We just feel he's been given life, and whatever life that is, we're going to nurture and care for him."
To help or learn more
Visit the Baby Knox GoFundMe page at: www.gofundme.com/babyknox
Visit the Team Knox Joseph Facebook page at: www.facebook.com/TeamKnoxJoseph
Original Facebook Post: Little boy prays with Santa for Christmas miracle
Carl Stine Mindi Stine we were able to ask Santa to pray with our boy for yours today. #prayforknox #kneelingforknox #teamknoxjoseph
Posted by Rebekah Lauren Sharpe on Sunday, December 13, 2015
More like this story