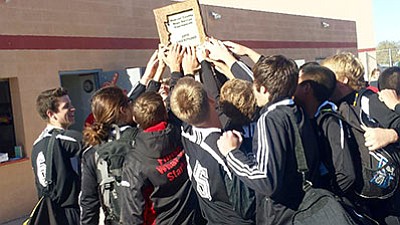 Originally Published: December 16, 2015 6 a.m.
KINGMAN - Two days after winning the Mohave County Boys Soccer Tournament at River Valley, the Lee Williams Volunteers returned to regular-season action and took down MALC in overtime Monday at LWHS, 3-2. The victory began the Division IV, Section I schedule for the Vols.
Lee Williams (2-2-1, 1-0-0) built a 2-0 lead that it took into halftime, but MALC (2-2-0, 0-1-0) fought back to tie the match in the second half. The Vols grew weary playing in their eighth game in eight days while posting a 6-0-2 record during that span.
The Vols played at Buckeye Youngker (0-3, 0-0) Tuesday. Results were not available by deadline. Lee Williams doesn't play again until it hosts Kingman Jan. 5.
GIRLS SOCCER: Trivium 6, Lady Vols 1
At Goodyear, Trivium Prep (5-0 D-IV, 2-0 Section I) came out swinging and racked up three goals in the match's first 10 minutes en route to its 6-1 win over the Lee Williams Lady Vols Monday.
Trivium scored three more before the end of the first half, and Lee Williams (2-4, 0-1) got on the board in the final minutes when Maddy Tribbett assisted on Sienna Cobanovich's goal.
The Lady Vols hosted Youngker (2-0, 0-0) Tuesday in section action. Results were not available by deadline. Lee Williams next plays at Kingman Jan. 5.
BOYS BASKETBALL: Lee Williams game canceled
The scheduled game between Lee Williams and Northland Prep in Flagstaff Monday was postponed to a later date due to weather. A date to play the game had not been reported by deadline. Lee Williams is scheduled to play at Chino Valley at 7 p.m. Friday.