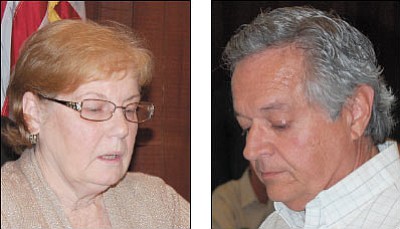 Originally Published: December 17, 2015 6:02 a.m.
KINGMAN - Federal law and the city attorney's firm advice to the contrary didn't stop a divided City Council from rejecting a conditional use permit requested by a church hoping to worship in downtown's Central Commercial Building.
Mayor Richard Anderson and members of the Council had to find a compelling government interest in order to deny Central Christian Church, and what they came up with might not be enough to get around the federal Religious Land Use and Institutionalized Persons Act, which Congress unanimously passed in 2000.
The legislation prevents governments, such as a City Council, from putting a "substantial burden" on a person's right to worship. It was passed after a pattern developed in the 1980s and '90s that showed cities and towns across the nation were denying churches the right to open in commercial districts, mainly due to the fact churches do not generate income.
The U.S. Supreme Court found the practice unconstitutional. The act is specific to churches and zoning issues, as well as prisoners and their right to worship.
Opponents of the church have said parking is inadequate, but the church was able to secure permission to park in nearby private parking lots, or such lots are open to the general public when the business is closed. They also identified 102 on-street parking spaces within 300 feet of the Central Commercial Building.
Concerns that the church wouldn't promote economic development, would force growth to stall and that it just plain doesn't belong in the downtown entertainment district have also been expressed.
A majority of Council members found those reasons provided them with the compelling government interest the act requires to justify a denial, perhaps in part due to the public and private money that has been used to revitalize downtown over the years, and the recently created Downtown Entertainment District.
A judge, however, might disagree, should Central Christian pursue litigation against the city.
City Attorney Carl Cooper advised them those concerns failed to meet the definition of a compelling government interest.
Central Christian Pastor Bret Johnson would only say, "We're studying all of our options," in a brief discussion Wednesday.
Phoenix attorney Matt Lockin, who represents the church pro bono, did not immediately return a phone call seeking comment.
And while Johnson had little to say regarding Central Christian's intentions, Cooper has made it clear the religious land use law protects churches from precisely the type of action the Council took.
In fact, when city Planning and Zoning commissioners held a public hearing on the matter Dec. 8, a majority voted to approve the permit due to the religious land use act - and a strong desire to keep Kingman out of legal hot water.
Tuesday's Council meeting began nearly four hours before the public hearing was held, and dozens of people remained as the Council wrestled with a number of issues. It was after midnight before Councilman Larry Carver formally recommended the Council approve the permit.
The decision weighed heavily on members, as there was an uncomfortable moment of silence before Carver spoke. He and Councilman Stuart Yocum voted yes. Vice Mayor Carole Young and Councilwoman Jen Miles, Councilmen Mark Abram and Ken Dean, and Anderson voted to reject the issue.
While it is unknown if Central Christian will pursue litigation against the city, Josh Ott, owner of the Central Commercial Building, said his family is considering legal action.
Cooper would not discuss the possibility the Council exposed the city to liability despite his advice against rejecting the permit.
"The Council did its fact-finding and found what they consider compelling government interests," he said. Cooper often tells Council members they are under no obligation to follow his legal advice. "It all depends on what level of risk you're willing to accept," he said.
As for Central Christian weighing all of its options: "That is completely understandable," he said.
Anderson and City Manager John Dougherty were out of town Wednesday and unavailable for comment.