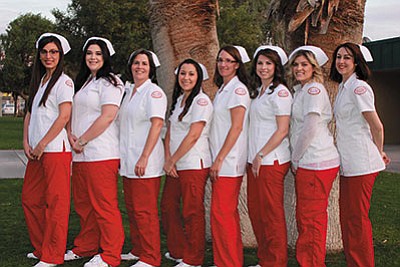 Originally Published: December 18, 2015 6:02 a.m.
KINGMAN - Thirty-three registered nursing students, eight of them from the Neal Campus in Kingman, received their professional pins from Mohave Community College during a ceremony conducted at Mohave High School in Bullhead City on Dec. 14.
"It feels like this is a symbol that signifies the two years of hard work," said graduate Sara Olney of Kingman.
The pinning ceremony has been a part of history going as far back to the Crusades of the 12th Century. Students are reminded of the meaning of the pin, and that it is symbolic of their qualifications and the love and support that were required to help them achieve their goal of becoming a registered nurse.
The college offers a two-year associate of applied science in registered nursing degree, with cohorts starting each semester. Upon completion of the program, students will be able to take the national licensure examination for registered nurses, approved by the Arizona State Board of Nursing and accredited by the Accreditation Commission for Education in Nursing.
The application deadline for the Fall 2016 semester is Feb. 15. For more information, visit www.mohave.edu/nursing.