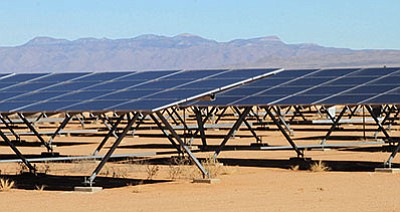 Originally Published: December 20, 2015 6 a.m.
KINGMAN - UniSource Energy Services has pulled the plug on plans to build a $45 million, 20-megawatt solar power plant near Kingman Airport, and instead is looking at other sites in Mohave County, a spokesman for the company said Wednesday.
UniSource held a meeting at Mohave Community College earlier this year to get public input on a proposed solar plant on 115 acres off Route 66, on Avenida Verde near Grace Neal Road. A separate 60-acre parcel would produce 10 megawatts.
Construction was to begin in February, contingent upon zoning changes and amendments to the county's general plan.
That location is no longer part of the company's business plan, said Joe Barrios, spokesman for UniSource in Tucson.
"We were looking for a location that could accommodate future expansion, so we had been looking at that site," he told the Daily Miner. "As it turns out, that location wasn't quite going to fit all our needs."
Barrios said he could not go into details about the change of plans due to confidentiality agreements.
"Of course, that does happen for construction projects of all sorts, including renewable energy facilities like this," he said. "That's why we continue to look for a location that would be appropriate for this first 5-megawatt array. The project is moving forward. We are looking at other locations."
Mike Gibelyou, senior agent for UES land resources department, addressed a number of concerns from citizens about the proposed solar project at the public meeting, including noise, dust, traffic and effect on nearby property values.
Energy mandates
UniSource announced last week that it will expand its renewable energy portfolio next year by building a community-scale solar photo-voltaic system in Mohave County and providing small solar arrays to two high schools in Nogales.
The projects are part of the company's plan to comply with Arizona's Renewable Energy Standard, which calls on utilities to increase their use of renewable power each year until it accounts for 15 percent of their energy by 2025.
The utility plans to invest up to $10 million to build a 5-megawatt solar array at an undetermined location in Mohave County.
It will complement other renewable energy systems, including a 7.2-megawatt solar array near Rio Rico and a 1.2-megawatt solar array at La Senita Elementary School on Gordon Avenue in Kingman.
The project at La Senita, built at a cost of about $5 million, consists of more than 5,000 solar panels on 6 acres leased from Kingman Unified School District. The array is next to a learning center providing students with opportunities to explore renewable energy science and technology, though a receptionist at the school said the learning center is closed and the school does not have access to the solar facility.
UniSource owns a gas-fired plant at Black Mountain in Golden Valley, and the company looked at building a solar facility at or near that site, Barrios said.
"Or we could build it in a community next to a school, just to provide an opportunity for the school and the public to learn about solar energy," he said.
Project funding
UniSource also purchases power from solar "farms" owned by other companies and wind-powered resources in Mohave County. The company's renewable portfolio has a combined capacity of about 48 megawatts and produces enough clean energy to power more than 10,000 homes for a year.
Projects are funded in part by the Renewable Energy Standard Tariff, a usage-based charge on customers' electric bills. In addition to approving UniSource's renewable energy plan, the Arizona Corporation Commission set the monthly cap on the residential REST charge at $3.30 for 2016 - down from $3.40 this year.
"It's something our customers support and it's something we support," Barrios said about renewable energy. "In terms of what customers pay, we're always looking for a balancing act when we ask for rates."
The company will use $60,000 in REST funds to pay for the installation of solar photo-voltaic systems at Nogales High School and Pierson Vocational High School in Nogales. Each system will have a capacity of about 10 kilowatts and will contribute to a small reduction in the schools' monthly electric bills.
UES has previously provided solar systems ranging in size from 5 kilowatts to 12 kilowatts to high schools in Mohave and Santa Cruz counties.
Barrios said it's difficult to compare the cost of renewable energy with the cost of fossil fuels. It depends if it's coal or gas, or solar or wind, he said. Generally speaking, energy produced by fossil fuels costs less than energy produced with renewables.
Costs per megawatt hour from UniSource's 2014 Integrated Resource Plan are:
• Wind: $180 in Arizona; $149 in New Mexico.
• Photo-voltaic solar: $168 for fixed arrays; $186 for single-axis arrays.
• Gas (combined cycle): Intermediate usage $119; baseload usage $88.
• Coal: $125.
UES provides electric service to about 93,000 customers in Mohave and Santa Cruz counties. The company also provides natural gas to 150,000 customers in northern and southern Arizona.
UES and its parent company, UNS Energy, are subsidiaries of Fortis Inc., which owns utilities that serve more than 3 million customers across Canada and in the United States and the Caribbean.