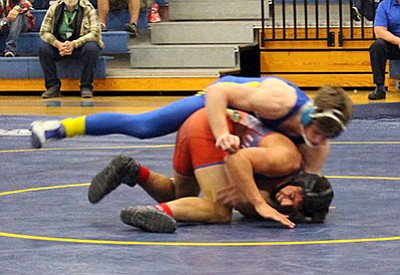 Originally Published: December 20, 2015 5:59 a.m.
KINGMAN - Senior Giancarlo Narvarte scored a game-high 20 points and Lee Williams took care of its business at Chino Valley (3-3 Division IV) Friday, 53-42.
"We played pretty well," said LWHS boys basketball coach Ray Smith. "We need to cut turnovers down."
Braxton Burgess added eight points for Lee Williams (5-1 D-IV), Chase Shropshire contributed six and Kaleb Smith tallied five. Marco Narvarte and Kael Juelfs each had four, and Nate Cottrell, Lawrence Campbell and Parker Taylor each scored two for the Vols.
Lee Williams heads into the holiday break and returns to action at 7 p.m. Jan. 4 at Mohave (2-4) in a non-section game.
WRESTLING
Kingman takes third place
At Window Rock, the Kingman Bulldogs went 7-1 Friday and Saturday to take third place at the 16-team Veterans Memorial Tournament.
On Friday, Kingman (10-5) went 4-1 with wins over Red Mesa (52-24), Miami (51-15), Shiprock (54-18) and Monument Valley, Utah (58-10). The Bulldog's lone blemish came against Camp Verde in a close match, 42-37.
"One match was the difference," said KHS wrestling coach Brandon Clor. "That Verde match was one of the best wrestled duals we've wrestled in my career as a coach. They're a hell of a team."
Kingman went 3-0 on Saturday by beating Pinon (60-6), Tohono O'odom (72-12) and Chinle (48-36) in the third-place match.
Heading into the individual tournaments, Mason Wester (152 pounds), Christian Barrios (120), and Danny Taylor (160) were each 8-0 for Kingman. Humberto Ayala (285), Ramon Chavez (145), Jesus Mejia (182), Conner Mahlmeister (195), and Joshua Schreuder each were 7-1.
The individual tournaments were not completed by deadline.