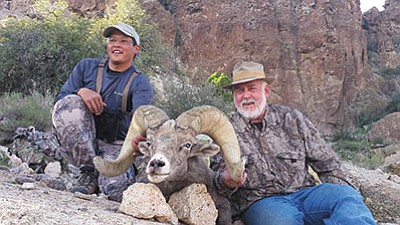 Originally Published: December 22, 2015 6 a.m.
I've had the pleasure of knowing and hunting with Jerry Weiers for over 20 years.
I first met him when he was the owner of a trailer business in Phoenix and a member of the Arizona Desert Bighorn Sheep Society.
Weiers got into politics and was elected to the state House of Representatives representing a district in Glendale, where he lives.
After he termed out in the Legislature, he ran and got elected as the mayor of his growing city in central Arizona.
Ask anyone and they will tell you he is a straight-up guy who isn't ashamed to tell you that he is a conservationist and a hunter. I personally think he did more for sportsmen than any legislator I know.
In the past, I have hunted with Weiers for buffalo, deer, turkey, javelina and even squirrels.
He is a heck of a funny guy and always fun to have in camp.
This year, after 23 years of applying for a desert bighorn sheep tag, Weiers got lucky when he drew tag No. 6 out of the eight that were offered in the best sheep unit in northwest Arizona, Unit 15D North.
This was a good year for Weiers as he also drew a fall turkey tag and an early Kaibab turkey tag.
I was happy for Weiers and for the fact that he asked me and the Arizona Wildlife Outfitters team to assist him on this once-in-a-lifetime hunt.
Weiers, despite being a member of the bighorn sheep society, had never been on a sheep hunt. He was excited at the prospect of taking a big ram.
My only issue was that I was booked on other big game hunts right up to the day before his hunt started, so I was going to have to depend a lot on guide Cody Jalbert and lifelong friend and super-glasser Ryan Chan to do the needed pre-season scouting. I've hunted in this unit many, many times and have taken some great rams there. But, obviously, when you can be there in the days and weeks before the season opens, it is a huge advantage.
Ryan has been out with us on many other successful sheep hunts and really enjoys time in the outdoors. His favorite sheep unit is 15D North, as it has the best population of mature rams in the region. But he knows sheep and can find them in any unit he visits.
I had looked at a steady stream of photos of rams that he and Jalbert found, including some really good ones. It was going to be a good hunt.
When I asked Weiers what kind of ram he wanted to take, he said he had taken a bull elk that had scored 366 inches, and so he thought a ram that scored 166 would be great.
On opening day, the place we were hunting had a lot of sheep hunters, their helpers and even another guide and his team.
Chan and Jalbert were together, while Weiers and I were partnered up. There were lots of sheep seen, both rams and ewes in the areas we were glassing.
Jalbert found a ram that was a possible shooter and he was all by himself. Weiers and I headed up the canyon to take a closer look.
When I looked through Chan's Swarovski spotting scope, there was no doubt that this was a big, mature ram.
But after spending a lot of time looking him over from 400 yards away, I felt that he wouldn't make the mark we were trying for, so very reluctantly, we walked away from the ram, even though it was much larger than what would be taken by half of the other hunters on their hunts.
By the end of Day 1, Chan and Jalbert had looked at about 30 different rams, while Weiers and I had looked at 10 more.
On Day 2 we decided again to split up to cover more country.
Chan and Jalbert headed up into a rugged wilderness area on the south end of the unit, while Weiers and I glassed some very tall peaks within the same wilderness area.
As it turned out, Jerry and I found more burros than we did sheep. We found 36 in a very short time. The unit is way overpopulated with these feral exotics, and are in direct competition with the sheep for food, water, and space.
I did glass up a group of rams and ewes that were so high on the mountain that I thought I saw little air packs on them! Chan and Jalbert also found sheep, including a number of rams, but they saw nothing that really was of interest to us.
Day 3 and Ryan was joined by his father and my good friend, Jay.
Jay has also been on numerous sheep hunts and not only does he know how to glass and find sheep, but he is a good judge of the quality of the rams he sees.
During the day, Jerry and I looked at a few sheep, and decided to just keep moving around in hopes of seeing a "special" ram.
As were worked around the mountains, we saw sheep and heard Ryan tell his dad that he was going to make a hike up a rugged canyon.
About an hour later we heard Ryan tell his dad that he had found a big ram: "Better get Don and Jerry up here, Dad!"
It was getting late and even though they were only a few miles away, it was going to take us some time to get there. Jay decided that he would start hiking into the canyon as he wanted to take a look at the ram.
Weiers and I had just reached a trailhead when I heard Jay say, "Don, this is the real deal.Get up here!"
That was all that Jerry and I needed to hear, and we get our packs on and headed out as fast as we could.
The sun was going to set soon, and I wasn't sure if we could make it up to where Ryan was watching a group of four sheep, three rams and a ewe.
When I arrived where the Chans were at, Ryan had the scope on a magnificent ram with long, wide flaring horns.
I took one look, backed out from the scope and had Weiers look at him.
The look on Jerry's face was something I'll never forget.
His eyes were wide open and he looked like he had seen a ghost!
I told Ryan that since he had found the ram, he could set Weiers up for the shot.
The ram was just under 700 yards and his attention was on the other two rams and the obviously hot ewe.
Off they went while Jay and I kept an eye on them through the scope.
My thought was, would they have enough time to make the almost vertical climb and get Weiers into a decent shooting range?
Finally, with daylight fading fast, we heard a shot! Jay was looking through the scope and he said, "I think he missed." I saw a nice ram running with the ewe, but he didn't seem big enough to be the one Weiers was after.
A short time later we learned the ram was down. Weiers had made a perfect shot at a range of 218 yards.
It was too late to take a lot of pictures, field dress and bring the ram out. So after just a few photos, Ryan field-dressed the ram, propped him up, and he and Weiers headed back off the mountain in the dark.
The next morning we enlisted the help of a couple of friends of ours who volunteered to help bring the ram off the mountain. Johnnie Hoeft and Ryan Borden were with us when we made the long trek up to the ram.
After a lot of photos were taken, we started the job of caping and then breaking down the ram into manageable pieces. Borden took off with a load of meat and then it was Hoeft's turn to bring out the head and hide, along with some meat.
The rest of us carried out all of the remaining edible meat - nothing was left behind except the carcass.
My motto is, "A coyote would starve to death on what we left behind."
The ram was taken to the Region 3 office where it was aged and scored by Jeff Pebworth of the Arizona Game and Fish Department. The ram had long horns, 35 inches on one side and 34 6/8 on the other. It had big bases; 15 inch one side, and 14 6/8 inches on the other.
The ram scored 168 6/8 inches (gross) and 168 2/8 inches (net). The magic number to make the prestigious Boone & Crockett record book is 168. The ram has to dry for 60 days before it can be re-scored, but for Jerry it doesn't really matter. The score is always second to the experience.
The ram was aged at 6 years old, attesting to the great genetics that some of the Black Mountain rams have.
Weiers decided to have local wildlife artist Henry Aguilar do the taxidermy work on his magnificent ram. I asked Weiers if he was disappointed that the ram scored more than 166, his target number.
His reply was, "Nope. I'm very happy with this ram!"