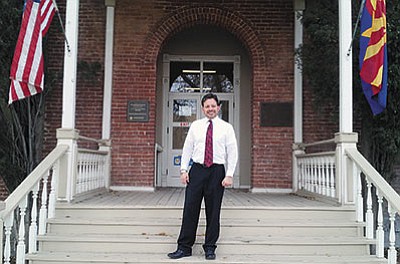 Originally Published: December 22, 2015 6:02 a.m.
KINGMAN - The City Council unanimously approved a court clerk position for the newly created Kingman Division of the Mohave County Regional Veterans Treatment Court at the Dec. 15 meeting.
Actually, it was the wee hours of Dec. 16 by the time Municipal Judge Jeffrey Singer approached the lectern.
"I hope this is recorded because I'm going to have to tell my wife I was at a meeting at 12:15 a.m.," said the judge.
A longtime part-time clerk recently retired, said Singer, and Veterans Court needs a fulltime clerk.
"There's so much more to this thing," he said. "We're going to need somebody."
What Singer will do is combine two half-time positions into a single fulltime position. Singer said there are only four veterans participating in the court at its beginning, but he noted Veterans Court in Lake Havasu City began with a single veteran two years ago and has about 50 participants today.
In other items of note from last week's meeting, the Council:
• Denied a grant of easement to UniSource Electric at the portion of the Kingman Crossing project that will be open space and parks. UniSource will have to move power poles, electric lines and guy anchors that were installed years ago when the Arizona Department of Transportation owned the roughly 168-acre property. UniSource will have to fund the relocation of those poles on their own, at a cost of nearly $100,000.
• Reappointed Pat Yarish, Toby Orr and Marvin Yarbrough to the Municipal Utility Commission and appointed Gary Fredrickson and Mark Bailey to the Planning and Zoning Commission.
• Entered into a professional services agreement with the Whistle Stop Railroad Club, which runs the railroad museum in the train depot, and gave permission for the club to use the part of the depot that used to house Hertz Rent-a-Car.
• Awarded a $132,000 bid to TR Orr, Inc. to construct a new building to house the multiagency Mohave Area General Narcotics Enforcement Team.
• Approved a driveway in the Frontier Shopping Plaza on Stockton Hill Road between Detroit Avenue and Interstate 40, in front of a vacant lot next to the shuttered Paco's Tacos. The owner plans to build an unidentified restaurant on the two lots.