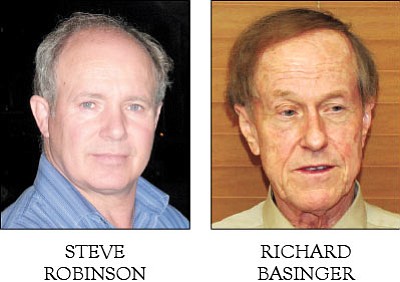 Originally Published: December 24, 2015 6:02 a.m.
KINGMAN - Not wanting to see the Mohave County Republican Party have a "food fight" in the newspaper, Steve Robinson nonetheless stuck to his (metaphorical) guns following a dust-up over the weekend.
There are plenty of Republicans ready to return fire.
The District 1 director of the county GOP, Robinson on Sunday cried foul after the party's precinct committee members met the day before in Lake Havasu City to nominate three people to possibly replace former state Sen. Kelli Ward, R-Lake Havasu City. She stepped down Dec. 15 in order to campaign full-time against U.S. Sen. John McCain.
"I deplore seeing the party have a food fight, but I can't cover up the facts to protect the guilty," he said in an interview Tuesday.
The guilty, according to Robinson, are Lake Havasu City Republicans who used a large number of proxy votes to nominate three Lake Havasu City residents to fill Ward's vacancy - the Mohave County Supervisors appointed Sue Donahue on Tuesday - rather than Rep. Sonny Borrelli, R-Lake Havasu City, who is running against former state Sen. Ron Gould for Ward's seat next year.
Gould, and a significant number of other Republicans, wanted the committee to appoint a placeholder rather than a candidate in order to avoid any advantage incumbency might provide.
Robinson, however, failed to mention he also had a handful of proxy votes to cast by committee members who did not attend, including one from his mother. The difference with his proxies, he said, is that they've attended meetings.
Tim Sifert, the communications director of the Arizona Republican Party, told the Miner that the party's bylaws allow votes by proxy and suggested the local party change the rules if members don't agree with them.
Robinson, who complained bitterly about the proxy votes cast Saturday, on Tuesday said, "I have no problem with proxies. I do think people should have to attend at least half of the meetings in order to vote, either in person or by proxy."
He said many of the proxies that were provided for Saturday's vote were from people who have never attended precinct committee meetings. Robinson said he was speaking as a private citizen and not as a district director.
Gould had something to say about Robinson's stance.
"I find it interesting Steve Robinson is complaining about proxies," said Gould on Monday. "He had a pocketful of them."
Gould also noted the county GOP tried to get rid of proxy voting in the recent past, but Robinson opposed.
"He's notorious for signing people up so he can take their proxies," said Gould - an accusation Robinson leveled against Lake Havasu Republicans.
Gould, also a Lake Havasu City Republican, said Ward's timing to step down hurt the process.
"She resigned between Thanksgiving and Christmas," he said. "This is the worst time of the year to try to get people together."
Gould also said, contrary to Robinson's contention, that people who couldn't attend Saturday's event "didn't give away their proxy willy-nilly."
And not all of them were from Lake Havasu City. Richard Basinger, president of the Mohave Republican Forum in Kingman, was livid over Robinson's comments.
"I was one of those who gave my proxy," said Basinger. "Steve Robinson called us for our proxy. Steve Robinson has an agenda."
Not so, Robinson insisted.
"That's a false statement," said Robinson. "I called to ask if he was going. His wife told me they were going to support Sonny (Borrelli), but the next day Richard told me he wasn't going to vote for any candidate."
"He calls it a travesty," countered Basinger. "But what it is, what he wanted didn't happen. What he says he's upset about is people not being there. We weren't there because we had other commitments ... we weren't abrogating our duties, but we had other commitments the last weekend before Christmas. A lot of people did and we gave our proxy on the basis neither candidate goes forward."
Basinger also said the county GOP needs to "get over this high animosity and we need to understand the process is the process."
Robinson would like the process to change, but he has no read on how his fellow county Republicans stand.
"Other counties have restrictions on proxies, including not letting them vote if they miss meetings," he said.